Do you struggle to come up with a gluten-free meal plan for your family? Are you rotating the same few recipes for dinner over and over again? I am excited to share that I have joined up with several food bloggers to create a Gluten-free Family Meal Plan!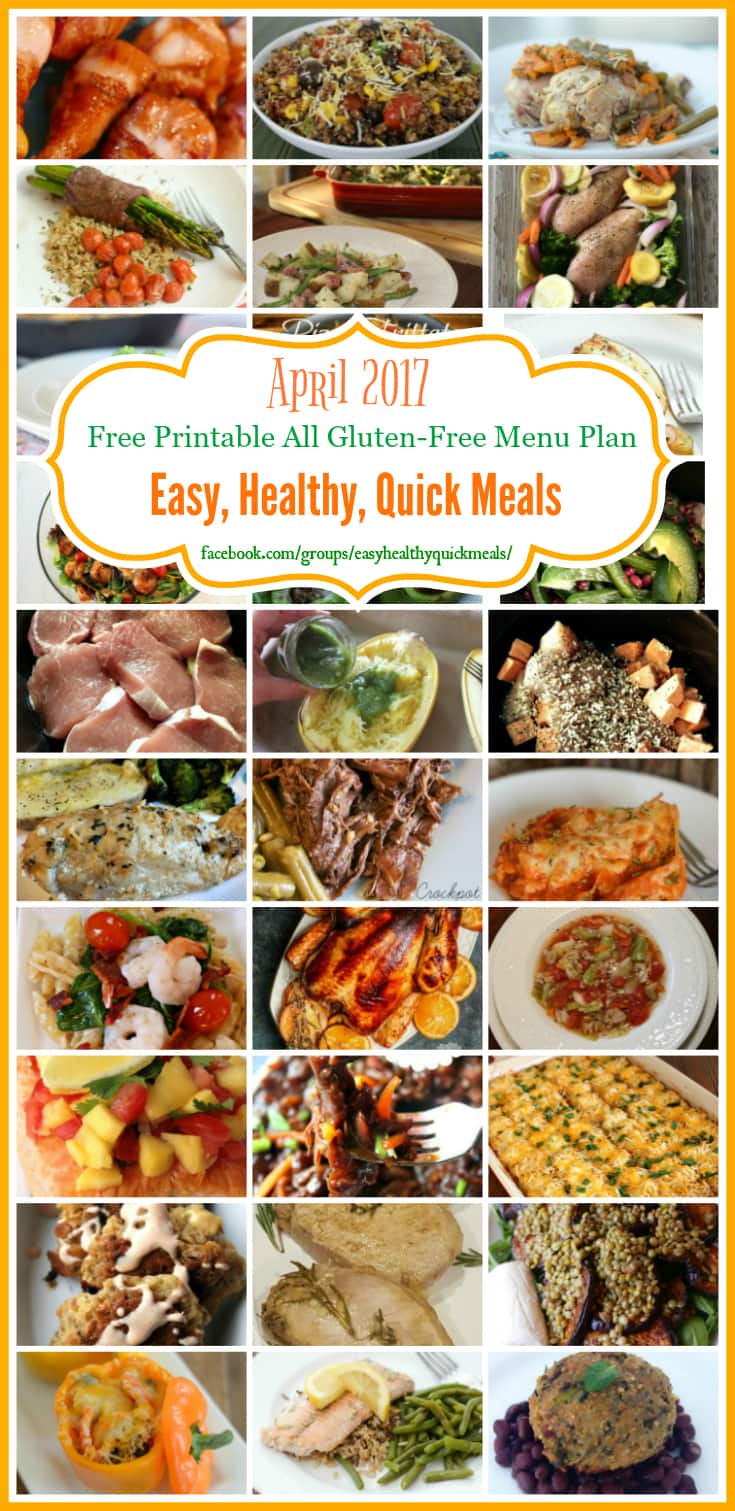 Quick and Easy Gluten-Free Meal Plan
This month we have created a gluten-free meal plan on a budget. All of these recipes are naturally gluten-free meaning you don't have to search out and buy specialty items. They also have been tested in our homes by our families, so the recipes are family-friendly and quick and easy to make. We also have marked which recipes are dairy-free and egg-free too!
Join our FACEBOOK group now! In addition to this month's free gluten-free meal plans, this group will feature new recipes, cooking tips, and time-saving tricks to help you get dinner on the table despite your busy schedule. We also invite you to share your pictures, experiences, and tips!
Printable Gluten-Free Family Meal Plan
Gluten-Free Daily Meal Plan for April
Click on the recipe name below to be taken to the complete recipe where you will find the ingredient list and directions. This list includes 30 gluten-free meal options that you can use to create your own gluten-free weekly menu plan. You can choose several of the gluten-free dinners below to mix with your family's favorite recipes to add some variety to dinner time.
1. Instant Pot Maple Chicken & Sweet Potatoes
2. Eggplant Lasagna
3. Spaghetti Squash Taco Skillet
4. Lemon Garlic Salmon
5. Steak Wrapped Asparagus
6. Quinoa Stuffed Peppers
7. Chicken Parmesan with Spaghetti Squash
8. Philly Cheesesteak Stuffed Green Peppers
9. Parmesan Garlic Shrimp
10. Low Calorie Salmon Cakes
11. Slow Cooker Mongolian Beef
12. Maple Balsamic Baked Pork Chops Recipe
13. Sweet Tea Chicken
14. Balsamic Eggplant with Lentils
15. Roasted Potato and Ham Casserole
16. Southwest Quinoa Salad
17. Pizza Frittata
18. Buffalo Ranch Chicken Casserole
19. Cabbage Roll Soup with Turkey
20. Pesto Spaghetti Squash
21. Southwest Shrimp Salad
22. Slow Cooker Honey Pork and Apples
23. Healthy One Dish Chicken Bake
24. Crockpot Black Bean Fajitas
25. Salmon with Mango Salsa
26. Crockpot Chicken and Sweet Potatoes
27. Paleo Easy Chuck Roast
28. Slow Cooker Lemon Garlic Chicken
29. Orange Roasted Chicken
30. Baked Quinoa Patties
I also invite you to join our Easy, Healthy, Quick Meals Facebook Group for more recipes and cooking tips.