Need a new tote for the pool? Make your own beach bag for all of your summer gear with one of out these free beach bag patterns.
I cannot wait to hit the lake this summer. I may even venture as far as an actual beach on the ocean if I am lucky. I live in the inland northwest, and this means that the nearest beach is the Puget Sound in Seattle, but I want to try to make it to some sandy beaches at some point this summer and that would be the perfect time to bring along one of these bags in this list of free beach bag patterns. There are so many to choose from, and I am not sure which one I will go with, but here is a list to help you choose one (or maybe a few!) to make for your summer trips.
10 Free Beach Bag Patterns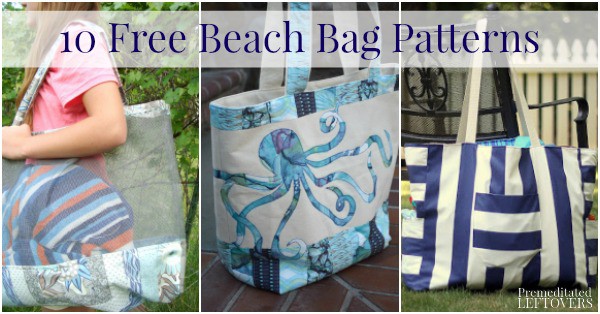 This Giant Beach Bag by Put Up Your Dukes is big enough to hold everything you bring to the beach, plus it has convenient pockets.
If you have a million and one sand toys you tote with you to the beach, why not make this Giant Converted Sand Toys Bag from Simply Kierste?
Make this Pottery Barn Inspired Beach Tote from Kojo Designs and you will be fashionable and functional at the beach.
I love the classic look and nautical stripes of this Canvas Beach Bag by Elle Apparel. It looks huge! This would be great for all those towels and toys.
This Free Beach Bag Pattern from Reanna Lily Designs looks great for toting more that you think it can. Just check out how roomy it is for such a small bag.
This Giant Beach Bag from Muse of the Morning has some side pockets and is perfect for toting all of your family's gear. Looks like it's pretty simple to make, too.
If you want a quick and easy project, try making this Beach Bag from a Towel by Sew Chatty. This one should take less than 30 minutes to throw together! Easy to wash, too!
This mesh Beach Bag Tote from Patchwork Posse is a great bag for making sure sand can drain from everything and that wet suits and towels get ventilation to dry.
If you like quilting or appliques, you will love making this Beach-Bound Octopus Tote Bag from Therm-O-Web.
If you are looking for a small beach tote, this compact Carry Everything Tote from Melly Sews has plenty of pockets and is perfect for taking with you.
More Free Sewing Patterns
10 Free Sundress Patterns for Women
10 Free Sundress Patterns for Girls