I have a little boy who has recently discovered Star Wars, and, to put it mildly, he is obsessed. His bedroom is being slowly but surely changed into a Star Wars haven, and I am always looking for clever and useful ways to incorporate the theme to delight him. This towel was one of the ways I discovered, and luckily it was a big hit with him! Master Yoda is just fun and you cant put the hooded towel on (or make it) without doing the Yoda voice: " To make, fun was it, this towel." While the sewing machine may be intimidating to you, it is a relatively easy sewing project if you choose to take it on. There is no pattern required, just straight lines to sew. May the force be with you!
DIY Yoda Hooded Towel Tutorial
Supplies Needed:
1 tan standard bath towel
1 tan hand towel
1 light green hand towel
Sewing machine
Directions:
Spread out tan hand towel lengthwise, cut off a 9″ length, set aside.
Spread out light green hand towel, cut off a 4″ length, set aside.
On the remaining piece of green hand towel, fold one corner on itself, measure from the corner down 5″ cut straight across. Open square and fold each side inward, cut a line straight across bottom. Repeat on the other corner of towel.
Spread out your 4″ piece of green hand towel, folded seam side down. Pin bottom edge of ear to the cut edge of towel 3″ in from edge. Sew ear across, hold down reverse and sew across again. Repeat on other side.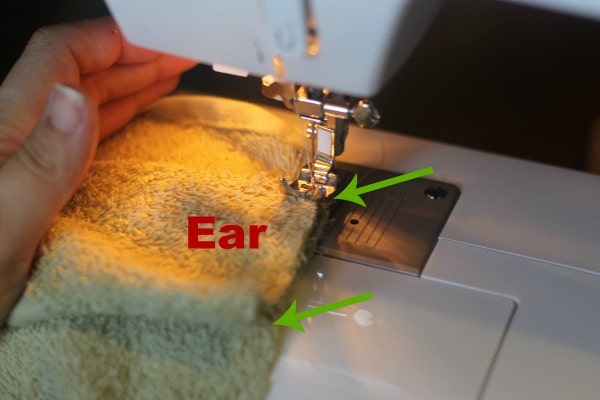 Overlap cut end of green towel 1″ on seam side of tan hand towel. Sew across, reverse and sew again.
Flip "hood" inside right, match up center with center of bath towel, lay on top of towel with ears facing up, match up edges and sew a 1/4 seam across. Reverse and sew back across again.
This towel will be over-sized on babies initially. If you use a small bath towel, it should fit up to about 7-8 year olds depending on their height.
More Sewing Projects for Kids
No Pattern Pajama Pants Tutorial
10 Free Pajama Patterns for Kids