These free kid's pajama patterns include a variety of pajamas for boys and girls.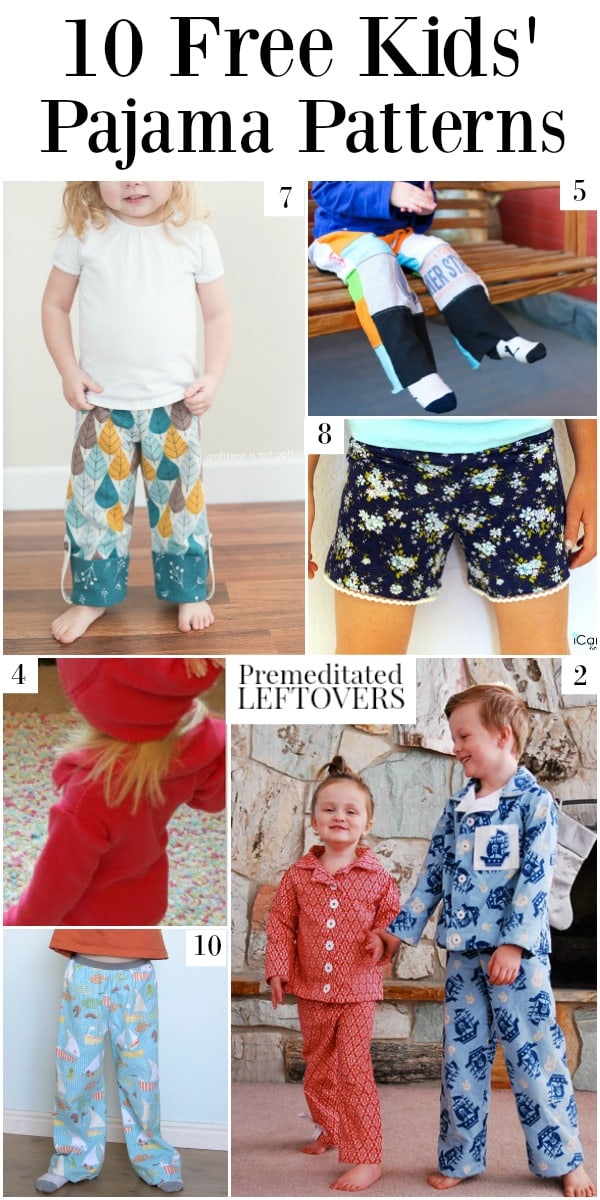 When I was a child, my mom used to give my brother and I a new pair of pajamas every Christmas. This made a nice tradition, but it also was a great excuse to get some fresh new PJs. There is nothing like a new pair of PJs for a child. You make so many memories in your PJs as they are fun to play in and lounge in. They are a sign of ultimate comfort. If you want to make some pajamas for your children, here are 10 wonderful free patterns to get you started!
10 Free Kids' Pajama Patterns
1. These Kangaroo Pocket PJs from Aesthetic Nest are so cute! It's like the best part of a pull-over hoodie on a pair of PJs!
2. The Pajama Rama pattern from Schwin & Schwin reminds me of those 50's style button downs that men and boys used to wear. I love the large collar and over-sized buttons she used as well!
3. If you are looking for a set for girls, check out the modifications Schwin & Schwin made to the Pajama Rama pattern to create the Summer PJ's featuring cute little shorts!
4. I love re-purposed things and this Knit Jammies Tutorial from Corduroy's Closet is the perfect way to upcycle a favorite sweater into PJ's for your baby or toddler. Genius!
5. Another amazing upcycling project is to make these Jersey PJ Pants from KojoDesigns. They use pieces of scrap T shirt material (from other projects or strips you just cut up) to create soft pants for your little one.
6. Gingercake has come up with another great upcycling project for little girls. This one is a Pillowcase Nightgown using, you guessed it- a pillowcase! Isn't it just darling?
7. I like clothes that can grow a little bit with the child and these Charley Harper Pajama Pants from Craftiness is Not Optional are so perfect. They feature a little strap at the bottom of the pants that allow you to roll them up and hold them in place or unroll them so they are longer when you need them to be.
8. Since it is still summer, it's not too late to make these adorable Girl's Knit Pajama Shorts from i-Candy. They look simple enough to make a few pairs of them!
9. I absolutely love these Orange Juice Pajamas by A Crafter. The little ruffle pants are just too cute!
10. For beginners, this tutorial on the Easiest Way To Make Pajama Pants by It's Always Autumn is right up your alley!
Bonus pattern: I found this when I was looking for kid's pajama patterns and I just had to include it since it was so fun! If you have extra fabric, why not make your little one a set of doll pajamas by The Lost Apron to go with their new PJs?
So many cute styles to choose from! What are your favorites?
More Free Sewing Patterns