These free baby doll sewing patterns would make fun and unique accessories for your child's dolls.
Would you like to expand the wardrobe of your child's doll? There's nothing quite as awesome as making clothing that you can't buy in the store for your child's favorite baby doll. It's unique and you can almost bet it won't fall apart like the cheap ones available to purchase. Plus, you can even make accessories such as carriers too! Here are 15 free baby doll sewing patterns to make your little mommy or daddy's eyes light up.
15 Free Baby Doll Sewing Patterns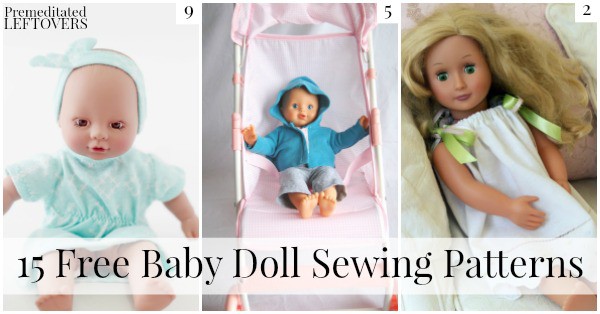 1. This Baby Doll Pouch Blanket from the Cottage Mama is brilliant because it makes it easy for kids to wrap their own baby up!
2. Do you have a tea towel laying around with a nice pattern? Make a cute dress out of it for your child's baby doll like A Little Loveliness did for this Tea Towel Pillowcase Dress.
3. I just love these Doll Bean Bag Chairs from The Real Thing with the Coake Family. They are perfect for 18-inch Dolls.
4. Who would have thought that Doll Panties could be so adorable? Check out the free pattern on Val Speirs Sews Doll Designs.
5. Peek-a-Boo Pattern Shop has a very nice Dolly Sweatsuit and Yoga Pants pattern for 12-inch dolls.
6. Maybe your child's doll is a boy and you need to dress them up. Here are some Boy Dolly Patterns from Susan Kramer.
7. I really like this Baby Doll Kimono made by Lia's Crafty Journal. How awesome! It looks like it is easy to take off and put on as well.
8. Susan Kramer also made this Cap Sleeve Doll Dress. It fits many types of dolls that are around 12 inches.
9. This cute little Baby Doll Dress with Matching Headband is so wonderful. This pattern comes from See Kate Sew.
10. 2 Little Hooligans made these awesome Cloth Diapers with Wipes and Wipe Case. I would have loved something like that when I was little!
11. Let your little ones carry their baby dolls like a grown-up with this cute Front Doll Carrier made by Create Kids Couture.
12. Cabbage Patch Dolls are a favorite baby doll and GYCT Designs has a few onesies and nightgowns to make for Cabbage Patch Dolls.
13. Here is a sling style baby doll carrier for you to make from Handmade Martini. Looks simple enough, even for beginners.
14. Make it Cozee has a great tutorial on making your own Baby Doll Bed that has pockets for accessories and handles to carry it by.
15. Probably Actually made a mini version of her own Baby Swaddlers that are the perfect size for her daughter's dolls.
There are plenty of great ideas here. Which ones are your favorite?
More Free Sewing Patterns
10 Free Barbie Sewing Patterns
10 Free American Girl Doll Patterns
10 Free Dress Patterns for Girls