These American Girl Doll Clothes free sewing patterns would make perfect gifts for a child with an American Girl doll.
American Girl dolls are that one doll that just about every girl dreams of having. There are so many accessories for them and many stylish outfits, but the problem is they are often a bit out of price range and although there is quite a variety, there are just some clothing options that are not available for purchase. Making American Girl doll clothing is so simple to do and there are so many patterns out there! Here are 10 free American Doll clothes sewing patterns so you can start making some new clothes for your little girls' doll with fabric remnants! These will also fit most other 18 inch dolls as well!
10 American Girl Doll Clothes Free Sewing Patterns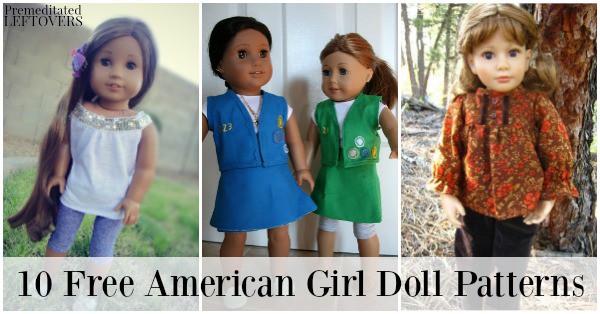 Make this adorable Doll Chef Set from Dream.Dress.Play. It comes with instructions to make an apron, hat and oven mitt!
Does your American Girl doll need a party dress? Here is a super cute Bubble Dress pattern from Sew Adollable.
Here is a great Hospital Gown pattern from My AG Doll Crafts. How awesome to make this if you know a little girl that is in the hospital!
Love infinity scarves? Now you can make an infinity scarf for your little girl and her American Girl Doll with this pattern from Candy Castle Patterns.
I love re-purposed things and this Lace Hankie made into a doll top by XOXO Grandma is amazing!
Another great pattern from Sew Adollable is this tutorial on how to make leggings for your American Girl Dolls.
I love the bohemian feel of this smoked top (or dress!) from Wren* Feathers.
The Real Thing with the Coake Family has an awesome pattern for this Girl Scout Uniform for American Girl Dolls. How great is that?
Here's a Pajamas set, complete with slippers and a sleep mask, from The Craft Patch. I think this is so awesome, especially in the pattern she chose.
Check out this really nice Parka that A Pinch of Joy made. It is just so awesome, don't you think?
Most of these American Girl clothes sewing projects can be done in under an hour and they would make great gifts, as well! Have fun sewing these 10 free American girl sewing patterns!
More Free Sewing Patterns
15 Free Baby Doll Sewing Patterns
10 Free Barbie Sewing Patterns
10 Free Dress Patterns for Girls