Mesh produce bags are durable and great to use around your home and garden! Learn how with these 6 Frugal Ways to Reuse Mesh Produce Bags.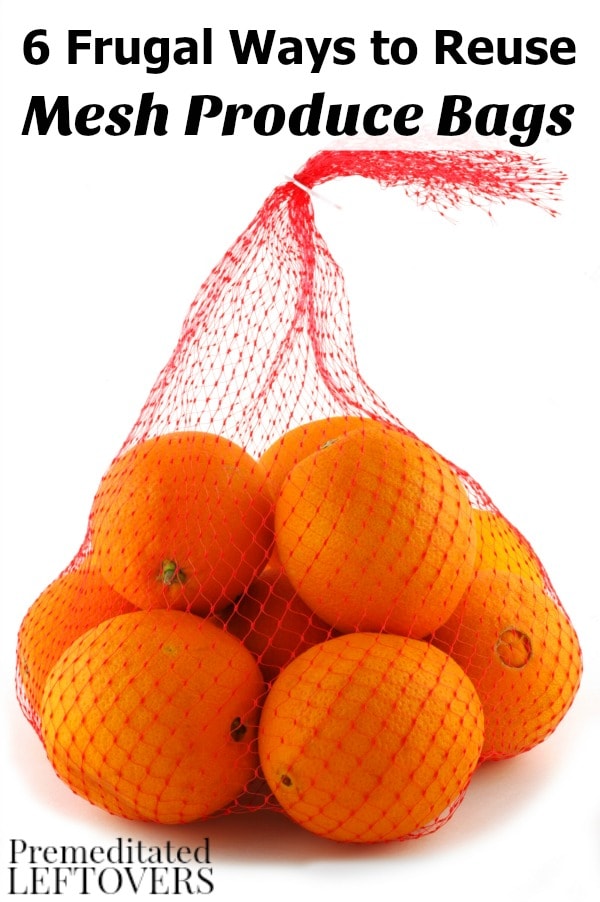 Mesh produce bags are those typically orange or red bags that your apples, lemons, and even clementines come in. They are perfect for allowing the fruit some air while allowing you to see inside at what you are buying. Plus, they sure make transporting the fruit easy. But what can you do with one once the fruit is gone? All sorts of things! Take a look below at 6 Frugal Ways to Reuse Mesh Produce Bags so you can get a little more life out of these colorful bags, even after the fruit is all gone.
6 Frugal Ways to Reuse Mesh Produce Bags
1. Make pot scrubbers. All you need to do is scrunch one of these bags up and use a needle and thread to sew the inside of the knot nice and secure. Or, tie the center with some string. It won't last forever, but it can be used as a pot scrubber and for getting those dishes nice and clean for about a week. How cool and easy is that?
2. Hold and transport beach toys. Don't you hate how much sand beach toys bring into the car? Use one of these bags to transport small beach toys. When you are done for the day, add the toys back into the bag and dunk it in the water a few times. It will help rinse all of the sand away while keeping the toys safely inside. This is such an easy way to make your beach trips a more enjoyable one.
3. Keep all your bath toys organized. You can use this same idea when keeping bath toys organized. Add your small bath toys to one of these bags. When you are done playing, add them in and give them a good rinse. This way they will be clean and ready for the next use and of course, all in one place. In most cases these bags have a handle or string on them for holding, making them easy to then hang from a hook or the faucet.
4. Reuse them at farmer's markets. Do you love heading to the farmer's market? Take these bags with you so you can hold all of the fresh produce you buy. It will make transporting your produce so much easier and the vendors always appreciate when patrons bring their own reusable bags. You can even use them to hold plants or non produce items as well.
5. Use them to hold dirty laundry when traveling. When you travel, take one of these bags with you. You can add dirty socks and underwear quite easily. It will be sure to hold all of your pieces together until you are back home and ready to give them a good wash. They even work well for small children's clothing items.
6. Save them for the garden. You can use these mesh bags as pot liners, to help with drainage in your pots, or even to hold potting tools. They can be used to hold bulbs as well, or even to transport produce from the garden into the house. Save a few and keep them with your gardening supplies and you will be sure to use them.
Who would have guessed that mesh produce bags would come in handy? Give these 6 ways to reuse mesh produce bags a try and you will never throw one away again. Which idea has you the most intrigued?
More Ways to Reuse Household Items:
10 Frugal Uses for Yogurt Containers
15 Creative Ways to Reuse Plastic Grocery Bags
25 Creative Ways to Reuse Egg Cartons
7 Frugal Uses for Empty Shoe Boxes