Getting back on track. It's a phrase we hear often. Everyone knows what it's like to "fall off the wagon", and be too exhausted and defeated to get back up. My thing is, most people will say that they're going to get back on track "next week", or "tomorrow", or the best/worst one ever – "I'll start on Monday". No! You won't! You'll start today. You'll start now. You're reading this article for a reason. Take this as your sign to get back on track right this very instant. I'm not going to go easy on you and tell you to do something like park farther away at the grocery store. I'm going to be honest with you and tell you this: You can have excuses, or you can have results. You cannot have both. So, with that being said, let's get back on track!
6 Steps to Getting Back on Track with Fitness and Exercise
Eat something healthy. So you binged a bit this week? This month? Whatever the case may be, your body still needs fuel. Eat something healthy like fruit, nuts, or some steamed broccoli. If you can't stomach steamed broccoli plain, add some seasonings like garlic powder. Just watch the sodium, as most seasonings are full of it.
Drink some water. Then drink some more. Yep, you heard me. Don't just drink one glass of water. Getting back on track requires some changes, and water intake is at the top of that list. Aim for half of your body weight in ounces. So, if you weigh 200 pounds, drink 100 ounces of water. Yes, you will feel like you're floating – but trust me, your body will thank you for it.
Stop beating yourself up. Whether you've been off track for a few weeks, or a few years, today is a new day and it's time to stop the guilt. You can't change the past, so get off the pity party train and get on the healthy weight loss track – now!
Try a fun new healthy recipe. Healthy food doesn't have to be boring! Adding new herbs and spices to a bland dish will make your tastebuds dance. 🙂 Check out Pinterest and FoodGawker for tasty food inspiration!
Share your goals. You're on Facebook every day anyway, right? Why not share your goals and possibly inspire some of your friends? Sharing goals will also keep you on track. If you say you're going to run a 5K next month, but you slack off and don't train, you're going to have to tell everyone that you had to walk the 5K because you lacked dedication and commitment. It will feel much better to say HEY! I DID IT! Set small goals, and achieve them. That will help you gain momentum to set larger goals.
Get up and MOVE! Whether it's walking, riding your bike, or hitting it hard at the gym – just move! That's the first step to getting back on track with your fitness and weight loss routine. If you don't have a bike or other exercise equipment, do body weight exercises. Moves such as squats, lunges, and jumping jacks are all going to get you in shape quickly if you dedicate at least 30 minutes a day to being active. An hour a day is ideal, but starting with 30 minutes is totally fine!
What are your best tips for getting back on track?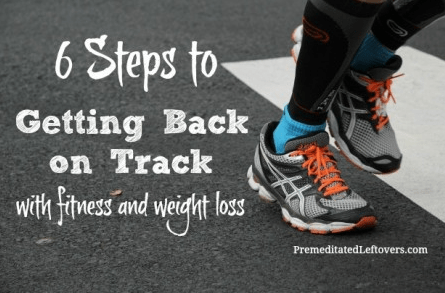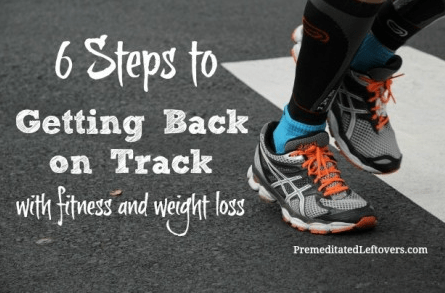 More Fitness Tips:
Sadie shares her weight loss tips on her blog Slap Dash Mom.