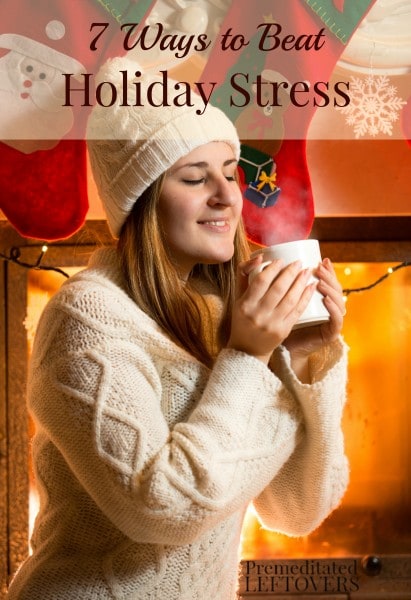 The holidays are quickly approaching, and as it nears your blood pressure might be rising. This season, don't let holiday stress get you down. Instead, beat holiday stress with these helpful tips. Below you will find easy to follow 7 ways to beat holiday stress that you can try to approach the seasons in a more positive manner. Don't worry, it is easier than you might think!
7 Ways to Beat Holiday Stress:
1. Surround yourself with positive people.
Do you have a real "Debbie Downer" in your family? If so, steer clear! The holidays are not the time to be around people who aren't positive. Instead, chose to be around friends and family that have a positive outlook on life and can help keep you upbeat and stress free.
2. Try natural remedies.
Familiarize yourself with natural stress busters such as tea, essential oils, and vitamin supplements. Such natural remedies can help you feel relaxed, nourished, and ready to tackle the season. A local health food store is a great place to start finding these items and more.
3. Don't forget to breathe.
When stuck in holiday traffic or a check out line, doing simple deep breathing exercises can be the difference between blowing your top and keeping your cool. When facing a stressful situation, just close your eyes and take 3-4 deep breaths. Relax your shoulders as you breathe and feel your body relax.
4. Make daily agendas.
Now is not the time to try to store all of your tasks in your head. Avoid stress and get into the habit of making daily task lists to stay organized. A simple notebook or pocket calendar works great for this. You can prepare your daily agenda each night before bed, and consult it in the morning when you wake up. Check off tasks as you go.
5. Set realistic goals.
If you have four children and an hour to shop, you are not going to be able to tackle your entire list. Instead, be realistic about the goals you have for yourself. Find multiple pockets of time and decide how you can divide your shopping list, tackling it little by little. Goals that you set for shopping, your budget, and even how you will handle family during the holidays needs to be done with a realistic mind frame so you don't get too hard on yourself.
6. Remember what matters.
The holidays are about faith, family, and having loads of fun. Don't lose sight of what matters to you during the season. We can easily get overwhelmed and stressed, but when we keep sight on what matters that stress seems to dissipate.
7. Use technology to help you.
A basic GPS app can keep you from getting lost in holiday traffic or on the way to Grandma's house. Shop online at trusted retailers whenever possible to save time, gas, and stress. Don't forget to follow your favorite deal bloggers so you can stay on top of deals and steals, helping you stay in budget. Using technology to your advantage is a great way to be stress free.
See how easy it can be to beat stress this holiday season? Give these simple tips a try and enjoy a season that is all about family instead.
More Holiday Tips
8 Holiday Hacks to Make the Holidays Easier
7 Ways to Simplify the Holidays
8 Ways to Make Your Tree Last Longer