Not only is dried rice inexpensive, but it has a lot of practical uses as well. Here are 8 Frugal Ways to Use Dried Rice around your home.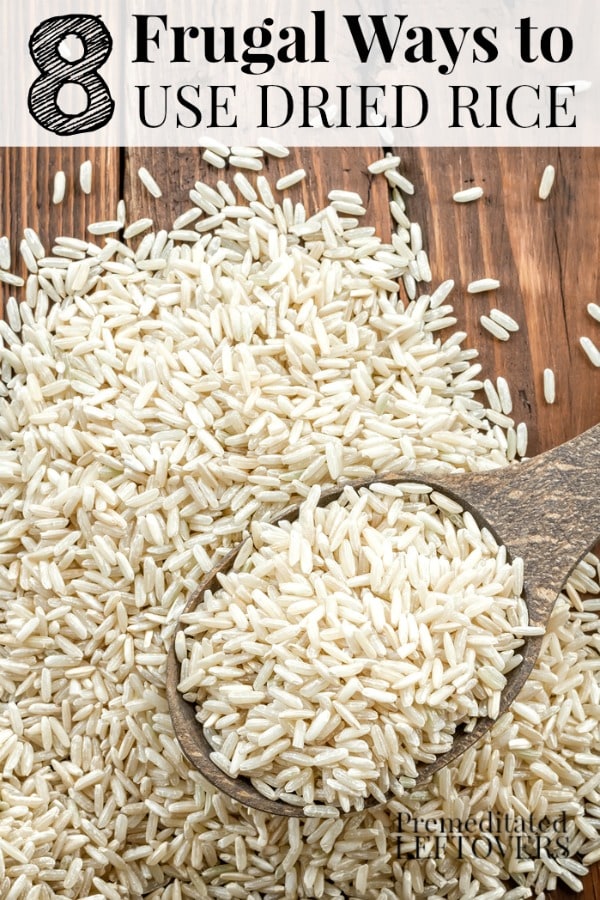 You already know that rice makes a quick and inexpensive meal, but did you know that dried rice has lots of other practical uses as well? The next time you are at the store you will want to grab some more because the truth is dried rice is worth its weight in gold. Take a look below at 8 Frugal Ways to Use Dried Rice, so you can put these little grains to work for you!
8 Frugal Ways to Use Dried Rice
1. Fix a wet cell phone. This use for dried rice is tried and true! If your cell phone gets wet fill a plastic bag with dried rice. Burry your cell phone in it and let it sit for 24-48 hours. The rice will draw out the water and moisture and absorb it so your phone can get back to working properly.
2. Make a quick and easy heat pack. Do you have a headache or sore muscles? Fill a sock with dried rice and a drop or two of lavender oil. Tie the end closed and place in the microwave for 30 seconds or until warm. It will hold the heat and help soothe sore muscles and aching heads.
3. Craft a door draft stopper. You can keep drafts from coming into your house when you make your own door draft stopper. Fill a long knee high sock with dried rice and tie the end closed. Lay it along the base of the door where it meets the floors so cold air can't get through.
4. Weigh down balloons. If throwing a party, fill deflated balloon with dried rice so it is the size of a plum. This will be enough weight to hold your helium balloons down. Just fill, secure the end closed, and tie your helium balloons to the knot. It is a cheap and easy way to weight your balloons.
5. Weigh down your tablecloths. Having a picnic or outdoor party? Add some dried rice to a deflated balloon so it is the size of a plum. Tie the end closed and secure. Make four of these, one for each corner of the table. The weights will help hold your tablecloths down. Want bug prevention too? Add a drop or two of peppermint oil to the rice before you add it.
6. Keep salt from clumping. Add a little dried rice to your salt shakers. The rice will absorb any natural moisture that gets in the shaker which could cause salt clumping. Even major restaurants use this trick to keep their salt from clumping or getting hard.
7. Gently scrub your dishes. Are your dishes caked on with crud? Rub some dried salt over them as a natural scrub that won't harm your dishware. If trying to clean out the inside of a bottle, toss some dried rice in and swirl it around. It will absorb liquid and offer a gentle scrub.
8. Dye it for sensory fun and art projects.
You can add food coloring (just a few drops per 2 cups will do) to color your rice and add it to sensory tables. You can also use the colored rice to craft with or make collages with.

Grab a bag of dried rice and see how easy these 8 creative uses for dried rice can be! Which one are you looking forward to trying?
More Frugal Uses for Common Household Items:
10 Frugal Uses for Popsicle Sticks
10 Frugal Uses for Yogurt Containers
20 Frugal Uses for Baking Soda