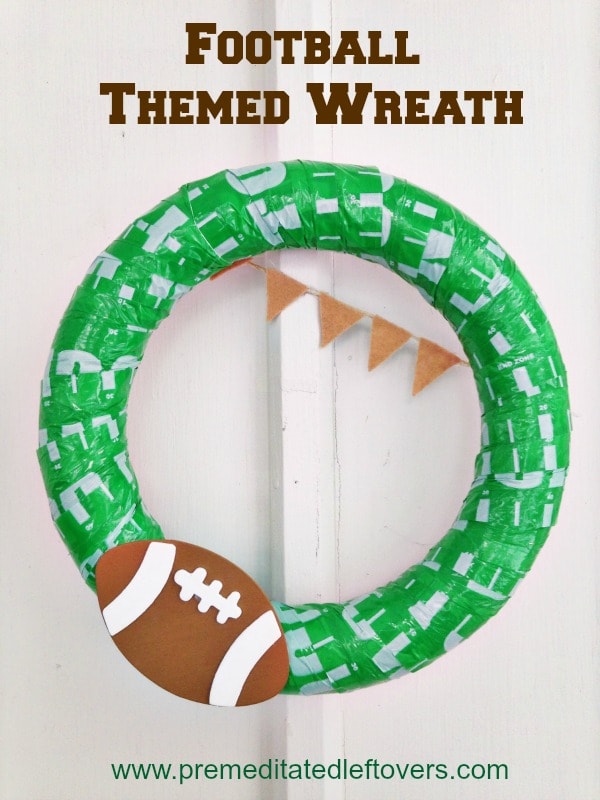 Super Bowl season is coming! While you plan your football themed snack menu, don't forget to plan your football themed crafts as well. That's right, football and crafting do in fact go hand in hand! Who knew? Get started by crafting this frugal football themed wreath, made from less than $5 worth of materials in under 30 minutes. Perfect for your front door or to display on game day, this frugal DIY football wreath will let everyone know you are ready to party!
DIY Football Wreath
Supplies needed:
Football field themed banner ($1 a roll at Dollar Tree)
Foam wreath form ($1 each at Dollar Tree)
Wooden football mini plaque (.79 cents at Michael's Craft Store)
Twine
Brown or beige felt
Hot glue, glue gun
Scissors
Directions:
1. Begin by wrapping the football field plastic banner around the wreath form. If you use the Dollar Tree wreath form as mentioned, one roll of banner is more than enough. Secure the end with a dab of glue.
2. Cut a length of twine about 8 inches long. Snip out mini triangles from your felt.
3. Apply the felt triangles to the twine to create a mini bunting banner. Attach to the back of the wreath with hot glue so. It should run across the wreath from side to side as you see here.
4. Finish by applying some hot glue to the back of the football and then glue it to the bottom of the wreath.
Your frugal football wreath is now ready to be displayed. We simply hung ours on a nail, but you can use ribbon if you wish. The wreath is light weight, so it can hang from just about anything without a great deal of effort.
Make your own football wreath such as the one you see here to get your family in the mood for game day! You can even make the bunting banner in your favorite team's colors if you wish.
Gather your supplies and give this frugal football wreath a try. It is a great craft to do on your own or to invite the kids to help with. And who knows, maybe it will bring a little luck to your team as well!
More Game Day Party Ideas:
How to Plan a Super Bowl Party
How to Make a Game Day Banner Using Paper Plates