Kids love to make homemade presents for friends and family, they love to spend time with you creating them and then enjoy watching someone open and gush over the gift. A Perfume Roller Bottle With Essential Oils is a great simple DIY for you to make together to gift or to keep for you and your little one. Besides the fact that they smell great, are better for you than the ingredients in store-bought sprays, essential oils have a ton of benefits they can offer, this is a great opportunity for teaching your child about their uses.
DIY Perfume Roller Bottle With Essential Oils
Supplies:
Almond oil or other carrier oil

20 – 40 drops of 3 or more essential oils
Directions:
1. Remove the lid and roller bottle top of the bottle. Using a tool like this makes it much easier to pop off the roller. Use a pipette or dropper to fill the roller bottle up to the neck of the bottle, be sure your little one holds tight to the bottle with one hand.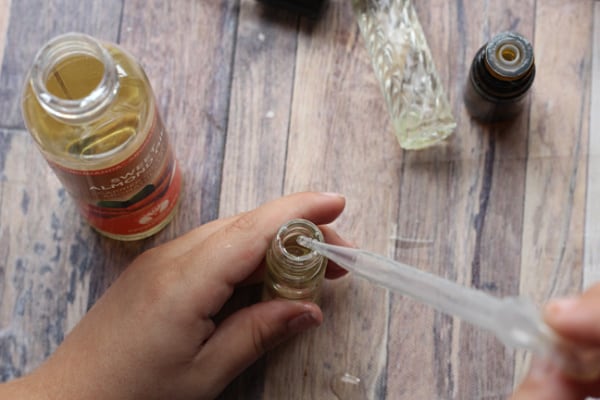 2. Carefully add essential oils, I use anywhere from 20-40 drops total of all the oils we have chosen depending on how strong you want it.

3. Replace the roller top and lid, shake well to combine the ingredients.
4. Let your child choose stickers or pretty labels to add to the bottle, to be sure it sticks you may want to cover it in a piece of clear packing tape.
Here are some of our favorite scent blends….
Essential Oil "Perfume" Blends"
Florals
Lavender and Chamomile
Jasmine and Lime
Bergamot and Geranium
Oriental
Herbal
Basil and Vetiver
Rosemary and Lemon
Fresh and Bright
Spicy Scents
Sandalwood and Clove
Orange and Cinnamon
More Personal Care Recipes Using Essential Oils
How to Make Homemade Lavender Rosemary Shampoo
DIY Lemon and Rosemary Gardener's Hand Scrub