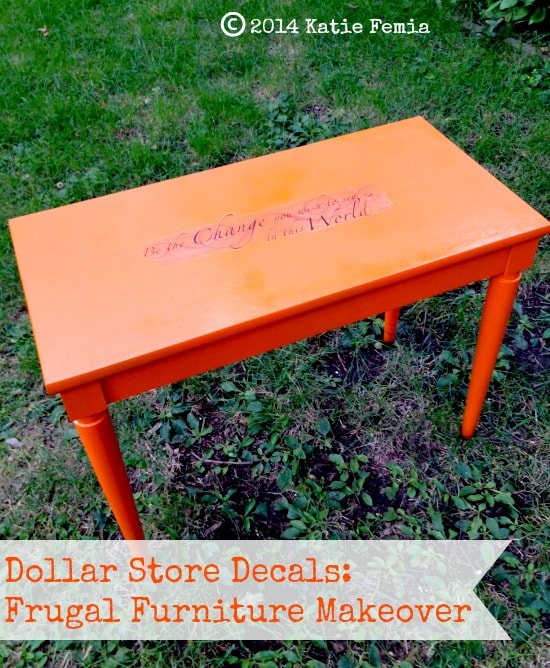 If you have browsed the craft supply section at your local dollar store lately, you may have noticed the wide assortment of peel and stick decals. These decals come in all sorts of designs from simple floral designs to famous quotes and sayings. There are so many wonderful ways to use these peel and stick dollar store decals in your crafting, and for the cost of just one dollar, they can make any project an affordable one. Take a peek below at how to use a dollar store decal to complete a fun and frugal furniture makeover. This is a makeover that anyone can do on a dime!
Frugal Furniture Makeover with Decals
Supplies needed:
Small furniture piece
Spray paint in the color and finish of your choice
Peel and stick dollar store decal
Clear coat sealant of polyurethane (optional)
You can use any small furniture piece you find. We used a small, wooden piano bench found at a garage sale for $2. Look for small chairs, benches, stools, shelves, or other solid pieces that can be easily painted and the decal applied. If you have yet to try making over a furniture piece, a small item is a great way to start.
Directions:
1. Begin by cleaning your furniture piece well with soap and water. Dry with a soft cloth.
2. You can sand away any blemishes you wish with sandpaper. This is also a nice way to smooth any rough edges. Our piece was in good shape so we could skip this step. If your surface is smooth and ready to be painted, you can too!
3. Apply two coats of paint to the piece. You can do this by brushing on the color or spraying it as we did. Choose a nice bold color and apply two coats allowing plenty of drying time in between.
4. Once your paint is dry, you can carefully apply your decal. Slowly lay the decal flat on the surface. Use your fingers to smooth out any and all air bubbles. Press the edges firmly to be sure the decal has been applied well.
5. To make sure your decal is protected, apply a clear coat finish or polyurethane to the furniture piece. Allow plenty of drying time before using or displaying.
For our piece, we found a simple saying to apply. For $1, it added a nice touch of detail that we would have been unable to paint on ourselves. The black pops nicely against the bright orange paint, making this a fun and frugal decorating piece for our home. For the total cost of $6, we were able to add a brand new-to-us piece of furniture that we designed ourselves!
Head to your local dollar store and see what is available to you. Then, snag a simple piece of furniture and start peeling and sticking! It is a great way to get a new look for a whole lot less.
More Frugal Furniture Makeovers
5 Tips for Perfectly Painted Furniture