Have you ever wondered how to make sugar scrubs at home? You will be pleasantly surprised to find how easy it is to make sugar scrub using pantry staples! All you need to make a homemade sugar scrub is sugar and oil! Adding a scent is completely optional. Choose a sugar scrub recipe below to easily create a sugar scrub for your face, hands, feet, or body.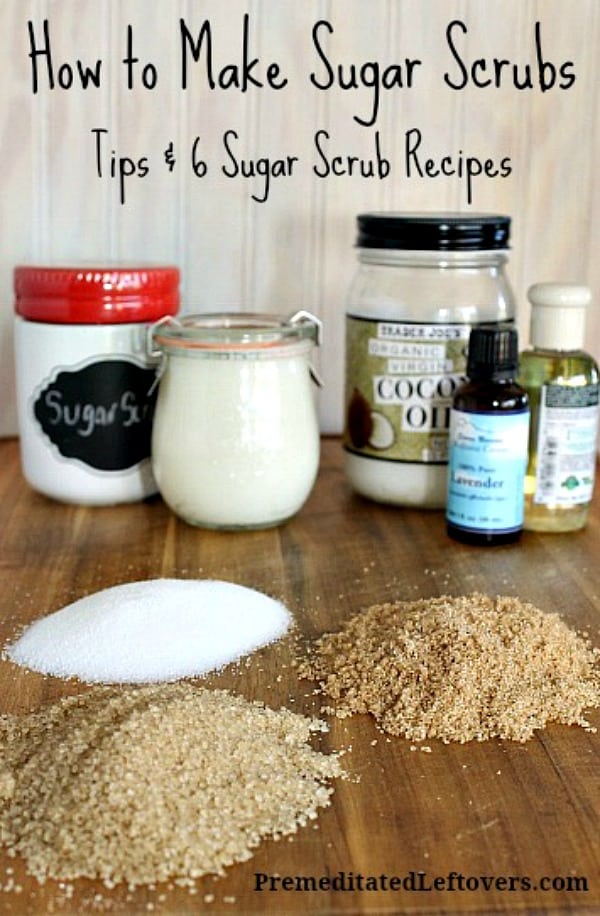 I live in the high desert where the dry climate leads to very dry skin. I like using sugar scrubs to help exfoliate my skin. I combine the sugar with an oil that will moisturize my skin. I create exfoliating sugar scrubs for my face, body, and hands and feet.
I alter the type of sugar I use based on what type of scrub I am creating. I use white sugar for facial scrubs, brown sugar which is a little coarser for body scrubs, and raw sugar which is the coarsest sugar for hand and foot scrubs.
You can use a variety of oils in your sugar scrubs. My favorite oils to use are coconut oil, olive oil, almond oil, and grapeseed oil. I have also used avocado oil when I was out of the other oils.
The scrubs will keep for 2 – 3 months in a sealed container at room temperature. I use glass jars, porcelain containers, and old china sugar bowls. You can find inexpensive sealed containers at World Market, Target, Walmart, and thrift stores. Sugar scrubs also make great gifts. Just add a label to the top of a Mason Jar and a ribbon and you have a lovely gift.
How to Make Sugar Scrubs
Basic Sugar Scrub Recipe:
Ingredients:
3 parts sugar – white, brown, or raw
1 part oil – coconut oil, olive oil, almond oil, or grapeseed oil
Optional add-ins: Vitamin E oil, honey, essential oils, vanilla, and/or spices
Directions:
Combine the ingredients in a bowl. Stir until thoroughly combined. Store in a sealed container for up to 2 months. To use, apply sugar scrub to wet skin. Massage the scrub into the skin and then rinse with water.
Below you will find recipes showing you how to make sugar scrubs for your face, hands, feet, and body.
6 Sugar Scrub Recipes
Choose a sugar scrub recipe below that meets your needs.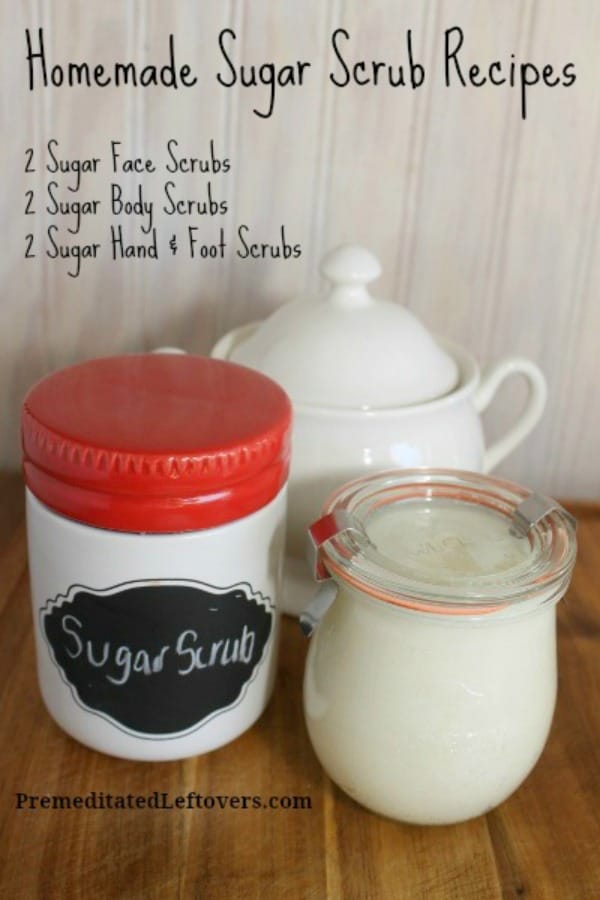 Homemade Sugar Face Scrub Recipes
These DIY sugar face scrub recipes use white sugar, honey, coconut oil, and vitamin E oil to create a gentle sugar exfoliator that also moisturizes your face.
The Lavender Sugar Face Scrub recipe below uses lavender essential oil. If you do not care for the lavender scent, simply leave it out.
You will probably be able to find most of the ingredients to make the Vanilla Honey DIY Sugar Face Scrub in your pantry.
Homemade Sugar Body Scrub Recipes
These DIY brown sugar body scrub recipes are a little coarser to help remove dry skin while nourishing your skin.
The Brown Sugar Body Scrub Recipe uses almond oil. If you don't have almond oil on hand, substitute olive oil.

The Cinnamon Brown Sugar Body Scrub Recipe only calls for 4 ingredients.
Homemade Sugar Hand and Foot Scrub Recipes
These DIY sugar hand and foot scrub recipes use raw sugar to providing maximum exfoliation to the rough and dry skin on your feet and hands.
The Lemon Hand and Foot Sugar Scrub Recipe includes lemon essential oil, so use caution when going in the sun after using it as lemon essential oil can cause your skin to be sensitive to the sun and increase your chances of getting a sunburn.
This Peppermint Sugar Foot Scrub Recipe has an invigorating scent perfect for putting a little pep in your step!
More Homemade Sugar Scrub Recipes
Harvest Spice Latte Sugar Scrub
Lemon and Rosemary Gardener's Hand Scrub
Homemade Citrus and Herb Sugar Scrub Bars
More DIY Beauty Product Recipes
How to Make Your Own Facial Cleansers and Masks
How to Make Your Own Body Lotion
How to Make Your Own Body Wash