Even on the best of summer days the bugs are sometimes unbearable but I despise putting chemical insect repellents on the kids and myself. I have experimented with a couple different combinations using essential oils and even plants plucked from the garden. So far the formula below seems to be the most effective, and has the best smell. I love using essential oils to safely replace all the chemicals in my home- they have found their way into my all purpose cleaner, homemade laundry detergent, fabric softener, tile scrub, and more. They are great not only for their amazing smell but because they are also effective for killing germs, warding off colds, soothing upset tummies, reducing fever, and even chasing away pests-enter my homemade bug spray. You only need a few drops of each so this leaves you with plenty of deliciously scented oils to use on other homemade concoctions.
How to Make Natural Homemade Insect Repellent
Ingredients:
Additional Items Needed:
funnel
spray bottle – the ones in the hair care section are best, as they have a fine mist spray.
Directions:
I use small bottles and divide my witch hazel between them, one for outside and the other goes into the bag we grab for outings.
Fill a small bottle with witch hazel, leaving at least 1/2″ room at top.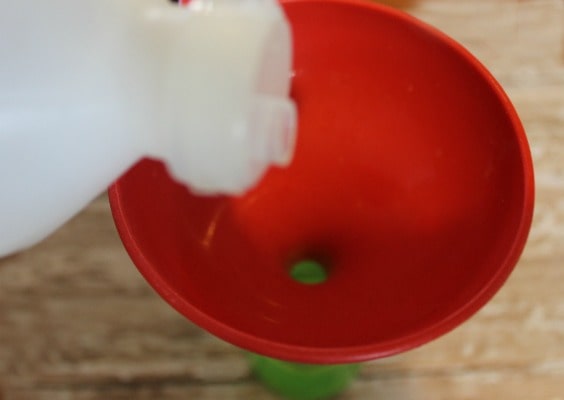 Add each of your oils directly to witch hazel, replace lid and shake well.
Shake before each use.
This insect repellent mixture smells so good you wont mind spraying it on and is effective at warding off mosquito's and other pests. Best of all it is all natural and safe, I even feel safe letting the kids help me make it.
More Homemade Body Care Products