This Rustic Brick Centerpiece is a nice addition to your table in spring and summer, or even fall. It is inexpensive to make with a few crafting materials and won't take long at all. Your dining table will glow with the light of the tea lights, adding to the rustic touch of this centerpiece.
Sometimes, you just want a good conversation starter. This Rustic Brick Centerpiece can do just that! This DIY centerpiece is just a starting point. What's great about this is that it's very customizable for your particular look and season. I can see adding some fairy garden details on this for a spring look or some leaves and other fall embellishments for an autumn inspired look.
This centerpiece can be done in no time flat. You will have plenty of time to think of creative ways to make it fit your decor style or you can just leave it as is for a cool and simple design. Not only is it quick and easy to make, it's also frugal and low cost to make. You may even have everything you need at home!
Rustic Brick Centerpiece Tutorial
Materials Needed:
old brick (Holes in the brick are ideal for candle spacing, but not necessary.)
scouring pad
warm, soapy water
faux moss
twine
3 tea lights
hot glue, glue gun
any embellishments you want to add
Directions:
1. Begin by giving the brick a good cleaning. Your scouring pad and warm, soapy water is perfect for this. This will not only make it look great, but will help the embellishments adhere better.
2. Wrap the faux moss around the outside of the brick. Cut it to fit. Remove the moss and add a line of hot glue, then replace the moss. Press it gently to the glue. Note that the glue will not hold the moss entirely, but just acts as extra support. We used moss that is sold on a roll and found at most craft stores. You could also buy a sheet of it and cut to fit.
3. Cut a piece of twine to fit around the brick. Wrap it around the brick and tie into a bow. The twine not only looks great, but will also help hold the moss in place.
4. Place a tea light on each hole at the top of the brick. Each brick will hold about 3 tea lights. If the tea lights fit in the hole, go ahead and add them!
5. Light your tea lights and display.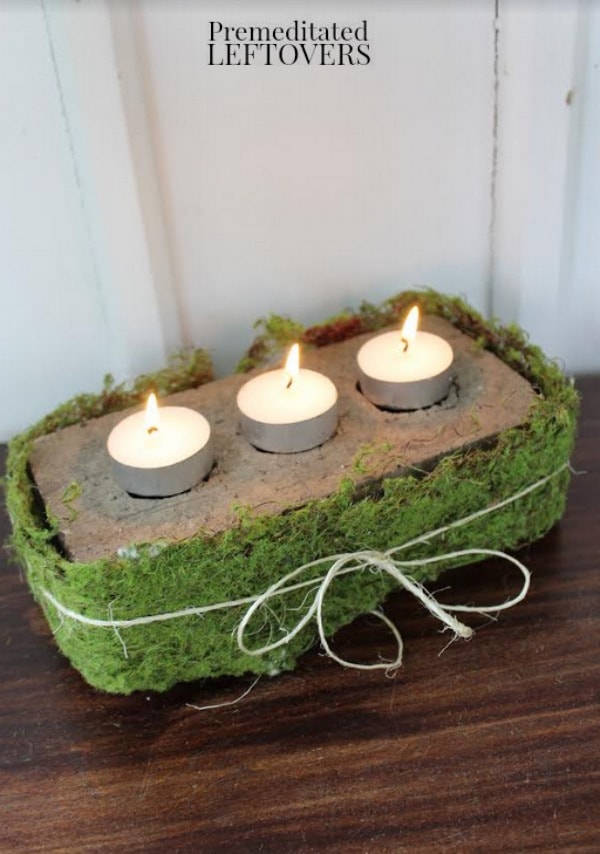 More DIY Centerpieces and Table Decor:
Anthropologie Inspired Christmas Tree Centerpiece
Winter Wonderland Tablescape Idea with DIY White Tree Cones