Oh, it's that time of year again. Time for the hustle and bustle of the holidays. This is my favorite time of year for many reasons!
One of my many reasons includes decorating my house in all things Christmas. Each year I work on coming up with a different way to decorate our house, including changing up the colors.
It's been a few years since I've created a new winter wonderland theme. However, with this theme I'm sharing with you today is all white with a few pops of silver. Yes, I am giving you a Winter Wonderland Tablescape Idea and DIY White Christmas Cones to try this year. This theme can also work for winter wonderland school parties or a dinner party.
Winter Wonderland Tablescape Idea
Supplies:
6 silver chargers
6 white plates ( I am using American Atelier Bianca Bead Round Plates.)
6 white cloth napkins
6 salad plates with gold rim ( Ikea)
silverware
4 white DIY Christmas Cones (I'll show you what you need below)
white tablecloth
2 sets of White

Trees

Strala LED Decoration Lightning (Ikea)
7 Large Icicle Snowflakes to hang from the ceiling (be sure to have string or ribbon)
3 silver candleholders and candles
Instructions:
Place your white tablecloth across the table. If you cannot find a white tablecloth with a design, you can always find white wrapping paper with designs.
Next, set the table. First place your gray charger, followed by a folded white cloth napkin. Lay your White American Atelier Bianca Round plate, followed by the salad plate.
Add your silverware to each plate setting, followed by the Crystal Glass to the right of each plate.
For the centerpiece, line your LED Decoration Lights right in the middle. Add your DIY White Christmas Cones, straddling them across the center of the table. I also placed the silver candleholders and candles throughout the table.
If you cannot find the White Trees Strala LED Lights, you could always add more DIY White Christmas Cones, or make the paper trees.
DIY White Christmas Cones
Materials:
4 paper-mache cones (You can pick these up at your local craft store or here.)
White Spray paint or craft paint
Instructions:
1. Carefully spray each cone with the white paint. I would allow about an hour for drying time.
See? This is a very easy Christmas craft to do in just an hour!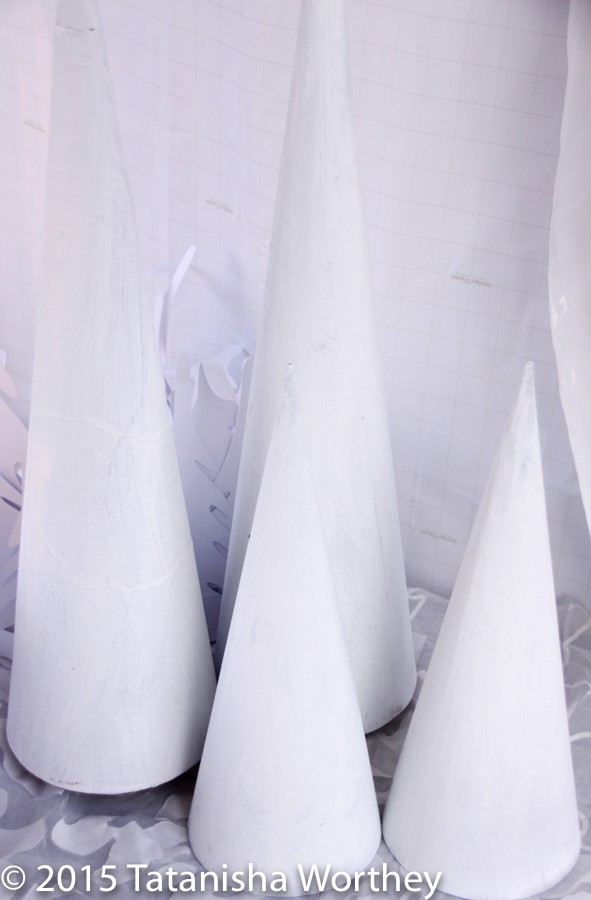 Now for the hard part: hanging the snowflakes! The easiest way to do this is using Large Icicle Snowflakes, which are ornaments. They will each have a small string attached. Take a piece of ribbon or twine (about an inch) and tape one piece to the ceiling and attach the other piece to the snowflake. Keep repeating this process until you feel you have hung enough snowflakes to give you the desired winter wonderland effect.
How will you decorate your table this year? Feeling up to try to recreate this easy tablescape idea?
If so, come back and let me know how it turned out!
More Christmas Decorating Ideas
10 Frugal Homemade Christmas Centerpieces
Stylish Christmas Table Setting That Doesn't Break the Bank
10 DIY Outdoor Christmas Decorations
15 Homemade Christmas Ornaments