I love the look of pretty embossed pots at the home improvement stores but the price tags can be a little bit ridiculous. Even a moderately small pot had a price of $24.99 and that just isn't in my budget. I thought there had to be a way to make my own for a more reasonable price and could even design the look myself. So I bought a medium sized terra cotta pot, brought it home, and stared at it on an off for a couple hours until I finally had an idea. Hot glue gives an inexpensive Terra Cotta pot the look of a more expensive decorative ceramic pot. This Tuscan styled would be beautiful indoors or out and is simple to make in any size. Make to large matching pots to flank a doorway or 3-4 small ones to group herbs together on your front porch. Draw out the names of your herbs right on the rim of your pot for a pretty and unique set.
DIY Embossed Terra Cotta Pot
Supplies Needed:
Medium to Large Terra Cotta Pot
Hot glue gun/glue
Craft paint
Paint brush
Rag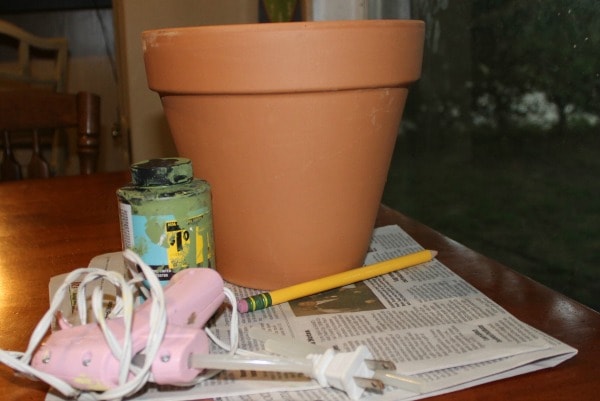 Directions:
You can freehand your design or draw it out with pencil on the terra cotta pot. I traced out a loop design on the rim and free handed the rest of the pot.
When your glue is hot and ready "draw" your design, moving the glue gun in an even and steady motion.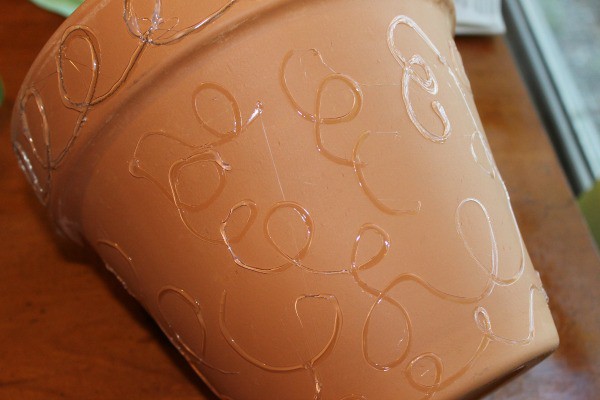 When your glue is dried and hard ( it sets quick). Brush a thick coat of paint all over the pot, paying extra attention to crevices and around raised areas.
While paint is still wet, wipe off excess.
Allow pot to dry well and fill with soil and a plant, its ready to go!
More DIY Flower Pots