Have you ever been driving down the street, and just so happen to see an old chair that has been put out to pasture? People toss out old chair regularly, perhaps because they are worn, damaged, or just plain ugly. That was the case when we came across this sad little chair once upon a trash day. It was waiting on the curb for the trash man to come and haul it away to the landfill. But we saw potential in the lovely back detailing, solid wood, and simple frame. So we scooped it up and decided to make an easy, upcycled chair planter. You can make one too, just take a look at how we did it.
DIY Easy Upcycled Chair Planter
Supplies Needed:
An old chair (solid wood works best, don't worry about condition)
Spray paint or roll on paint
Sand paper
Scissors
Knife
Measuring tape
Flower pot
Plantings of your choice
As mentioned our chair was a curb find. We found spray paint for around $3 a can and only needed one. The rest of the items can be found at your local hardware store at reasonable prices!
Directions:
1. Begin by cleaning your chair well with soap and water to remove any dirt and debris.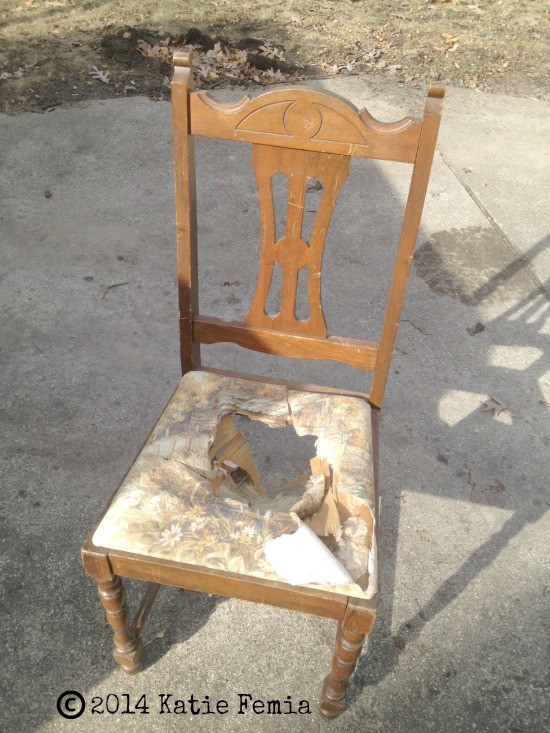 2. You now need to remove the cushion. Simply make an incision in the center with your knife and begin cutting away. If there is a wooden bottom supporting it, simply take a hammer to it to remove it. You want to clean the entire center out of the chair.
3. Once all of the chair cushion is ripped away, it will look like this. Take scissors to scrape out as much of the remaining fabric as you can.
4. Now, you want to paint your chair. Use sand paper to sand down any rough spots. We gave ours two coats of a glossy purple paint that was suitable for outdoor use. After all, you don't want to paint to fade or chip.
5. You can now prepare to insert the plant. Measure the seat opening and see how big of a planter you can place in it. You want your planter to measure about one inch larger than the opening so you can set it in but it won't fall through the hole.
We simply dropped our flower pot with plantings inside of it directly into the seat. Since it measured slightly larger than the opening, it fit perfectly and won't fall through. How sweet is that?
What was destined for the landfill is now in the front yard and welcoming visitors to our home in a way that is whimsical and sweet. Our total cost was just around $3 plus another $7 for the plant. You can't beat that.
So give this fun and very frugal easy upcycled chair planter a try!
More Frugal DIY Projects