Racquel is sharing how to make a DIY, no-sew window treatment by using fabric strips to create a valance.
Window treatments can be a difficult item to purchase or make yourself. There tons of options out there but often they are very expensive to purchase or very complicated to make. If you are lucky enough to have the talent to make them, finding great fabric at a reasonable price can really be a challenge.
How to Make a Fabric Strip Valance
This is a great option for a window treatment that doesn't require a lot of money, time, or skill to create. In fact, this valance which hangs above a 36" window, took less than an hour to make and the supplies were purchased for less than $15 (which bought enough to do two windows of the same size).
About the supplies: With quilting becoming such a popular craft, many stores now sell fabric pre-cut and packaged in coordinating patterns and colors. The fabric shown here was purchased as a pre-cut package. There were several patterns and colors and all were cut to 42" long by 2 ½" wide. To give the valance some extra texture, a spool of ribbon was purchased as well. The only cutting that was required was to cut the 42" strip in half.
Supplies:
Fabric strips of varying colors and prints cut to 2 ½" wide x 21" long
Scissors
curtain rod
Directions:
Step 1. Lay out the fabric strips alternating colors and patterns to create the overall pattern you desire.
Step 2. Carefully lay a single piece of fabric over the curtain rod. This should be offset rather than evenly laid over.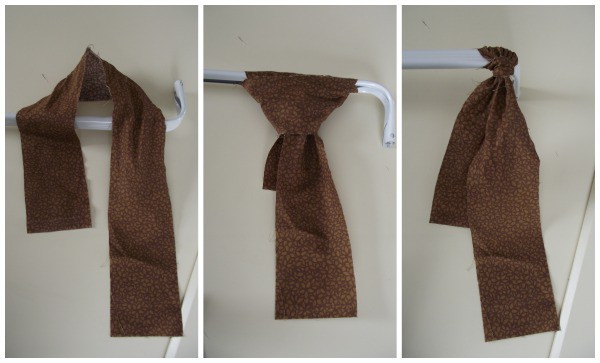 Step 3. Draw the ends of the fabric through the loop you've created and pull tightly to create a knot.
Step 4. Repeat with remaining fabric, creating the pattern you choose.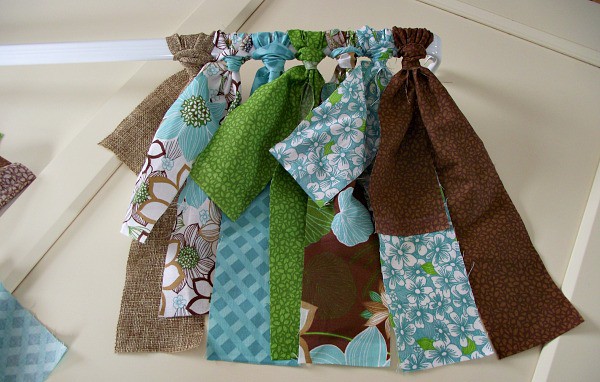 Step 5. After knotting all fabric to the curtain rod and mounting the hardware to the window trim or window wall, hang the finished fabric valance and step back to enjoy your DIY, no sew valance!
More Frugal DIY Home Decor Ideas