Even though summer days last longer, sometimes they just don't last long enough- a couple packs of glow sticks from Dollar Tree can extend your summer fun from dusk to dark. No need for you and the kids to run in as soon as the porch light comes on, activate a handful of glow sticks and check out these awesome games for nighttime fun. I was able to get a pack of 15 bracelet sized glow sticks for just $1, now that is some frugal fun. These games would be a great addition to your 4th of July fun.
5 Night Games Using Glow Sticks
Glowing Golf– Whatever you chose to call it, it is definitely fun! Create a course by poking glows sticks in the ground to create arches for your golf ball to roll through. Spread them around the yard, up hills and down, sand and grass to set up 9 or even 18 holes of wacky night golf.
Radiant Ring Toss– Toss a couple glow sticks in an empty, clean soda bottle. Attach two bracelets together, and use them to ring the bottle. Assign a color to each player, if you have a lot of kids playing, make 2-3 setups.
Red Light, Stop, Green Light, Go– This childhood favorite is played just like during the daytime, with the fun addition of red (well pink in our case) and green glowing sticks to start and stop the fun. Simply have them raise the color they want to be followed- of course green means go and red means stop.
Bright Bowling– Gather clean, plastic 20 oz. and 2 liter bottles. Add 2″ of water to give bottles a little weight, drop a glow stick in each. Use duct tape to wrap glow sticks around a play ground ball to be used as your bowling ball.
Dazzling Dive– Toss sticks or make them into rings and toss them into the pool, have kids dive for them as they sink to the bottom, assign each child a color. You can declare the winner the first one to surface with their color, or the most of their assigned color.
The kids loved these games as well as the fact that their day of fun got stretched out a little bit longer. What ideas can you come up with for nighttime play with glow sticks?
More Night Time Activities for Kids
5 Night Activities Using Glow Sticks
Flash Light Tag and Other Night Time Games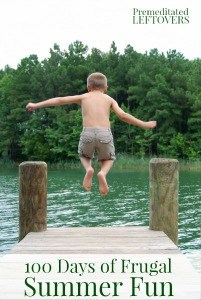 You can find more ideas for frugal summer fun for kids here as we share a new frugal summer activity for kids each day for 100 days!