This super fun Building Bridges Activity is great for teaching kids about bridges while they play. By using basic supplies you already have on hand at home, you are able to easily teach your child the concept behind building bridges that are structurally sound and safe to use.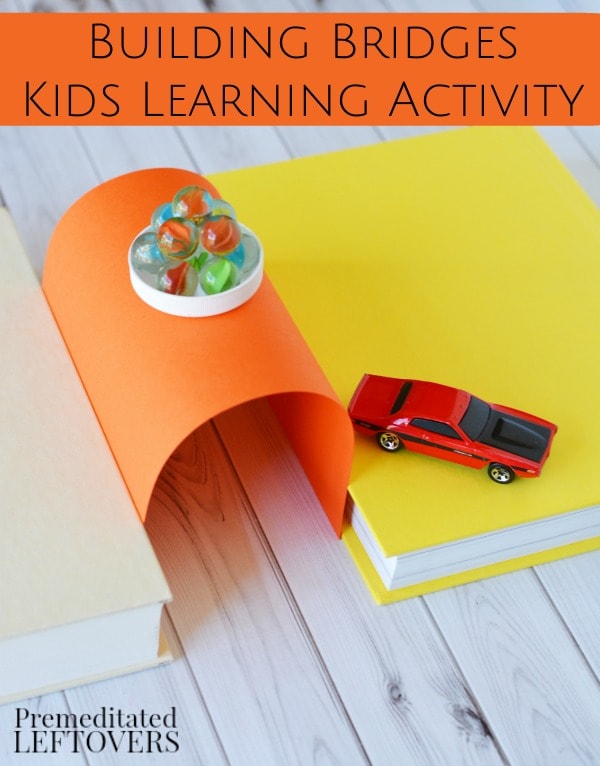 Building bridges may not seem like an activity your kids will enjoy, but you will be surprised!  They will have so much fun playing with their toy cars during this Building Bridges Activity, that they won't even realize you are helping them learn all about engineering!
Building Bridges Activity for Kids
2 books of equal or close to equal size
1 piece of card stock
Experiment #1: Place the two books next to each other, about 3.5″ apart. Place a piece of card stock across the books creating a bridge. Place a small toy on the bridge. What happens? Continue to add additional toys until the bridge collapses, if it has not already.
Experiment #2: Bend the card stock and place it in between the books. Balance the toys on top of the bridge and see how many marbles or toys you can add until the bridge collapses.
Building Bridges Concept Demonstrated: Strong materials are needed for building bridges that cars drive across but other materials can be used to make toy bridges. Making sure they are the constructed the right way is important.
Building Bridges Learning Objectives: Which option creates the strongest bridge and why?
Placing a piece of card stock flat on the top of two books creates a bridge, but it isn't very strong. Once a toy sits on it, it quickly collapses. When the card stock is arched, the bridge holds more weight because it's evenly distributed and shared with the books. The construction determines how much weight a bridge can support.
Other options: Make a hypothesis. How many marbles does it take to collapse the bridge? Record your findings. Which bridge do you think will without the most weight before adding any toys? What happens when you use paper or cardboard for this project?
Building bridges like this using basic household items is a great way to teach your kids a fun and simple engineering lesson.  While this is a great activity for a younger child to complete, it's ideal for building those basics of engineering from a very early age.
More Learning Activities for Kids:
Magnet Science Activity For Kids
Exploring Under Logs Nature Activity
Jelly Bean Counting and Sorting Activity
Ice Cube Discovery Activity For Kids
Disappearing Egg Activity For Kids
Bouncing Beans Activity For Kids
Thanks to Kari of Craft Create Cook for sharing her project and pictures with us.