Let you kid use this Duct Tape Makeup Bag Tutorial to make some homemade gifts for friends.
If you're looking for an inexpensive but adorable homemade Christmas gift idea kids can make give this simple tutorial for a DIY Duct Tape Makeup Bag a try. Just grab some zippered bags and pretty duct tape for your little diy'er and they will be churning out these sweet makeup bags in no time! They would be a great gift for all the girls in the family this Christmas who are sure to love them.
DIY Duct Tape Makeup Bag
Supplies:
quart/gallon sized zip bag

scissors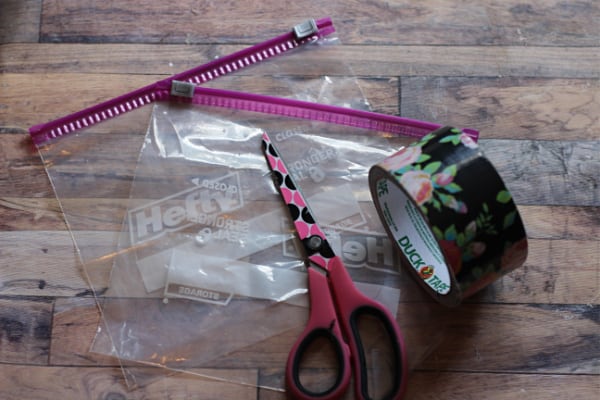 Directions:
Choose a good quality zippered bag and be sure that you have the type that has the little zipper pull thing at the top like this.

Lay it out flat and start at the top just below the zipper closure, cover all the way across the bag from edge to edge overlapping the last piece just a bit until the surface is completely covered in duct tape. If the very bottom of your bag is not completely covered overlap ½ the duct tape on one side, flip and press the other half on the other to create a sturdy bottom. We found this pretty duct tape on Amazon by doing a quick search you can find it HERE.
Cut off any excess that hangs over the sides of the bag.
Flip your bag over and repeat on the other side, pressing firmly and laying it out as smoothly as you can. This time leave a ½"-1" overlap on each end of bag and fold it over while smoothing it down.
Your new makeup bag is cute and frugal as well as water and leak proof. They would also serve well as pencil pouches, holders for small toys, or as a wet bag for diapers, swimsuits,etc.. So the gift giving possibilities are really endless!
Get creative, mix up stripes, solid, and patterned duct tapes to make each bag individual.
More DIY Gift Ideas Kids Can Make