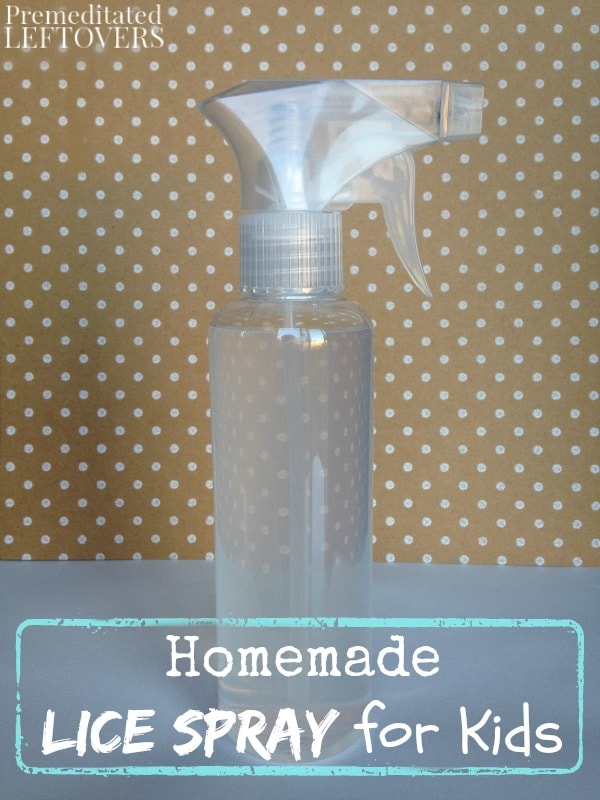 Lice aren't picky when it comes to clean or dirty hair, so even if you drag your kids to the tub every night, they are not immune. Unfortunately, there really isn't a way to completely prevent head lice either. However, there are a handful of precautions you can take to help reduce the chance of head lice spreading to your loved ones, like teaching your children not to share hats and hair accessories. This Homemade Lice Spray for Kids is another way I have found to reduce the chances of a lice outbreak in our home.
Tea tree oil, peppermint oil, and eucalyptus oil are all known to be natural insecticides. When used in this homemade spray, they provide a safe way to arm my children with a natural defense against head lice. Don't wait until you get that dreaded letter in your child's backpack letting you know lice has been found on a student in their class, or worse. Eliminating lice from your child's hair is not fun. It's easy to mix up this simple solution and give your kids a couple sprays before heading out the door.
Homemade Lice Spray for Kids
Materials:
Instructions:
Add the water to your spray bottle.
Drop in the listed amount of each oil and shake your bottle to mix well.
Spray enough to lightly cover your child's hair.
This homemade lice spray for kids dries without leaving any visible residue and smells amazing. Oh, and one more thing: this spray is extremely useful in the mornings when my little ones need help taming their crazy bedhead. I can't help but giggle when my 4 year old acts like she's getting a royal spa treatment when I spray it on her hair!
More Homemade Hair Products
DIY Hot Oil Treatment for Hair
DIY Rosemary Mint Hair Conditioner
Lavender and Rosemary Detangling Spray