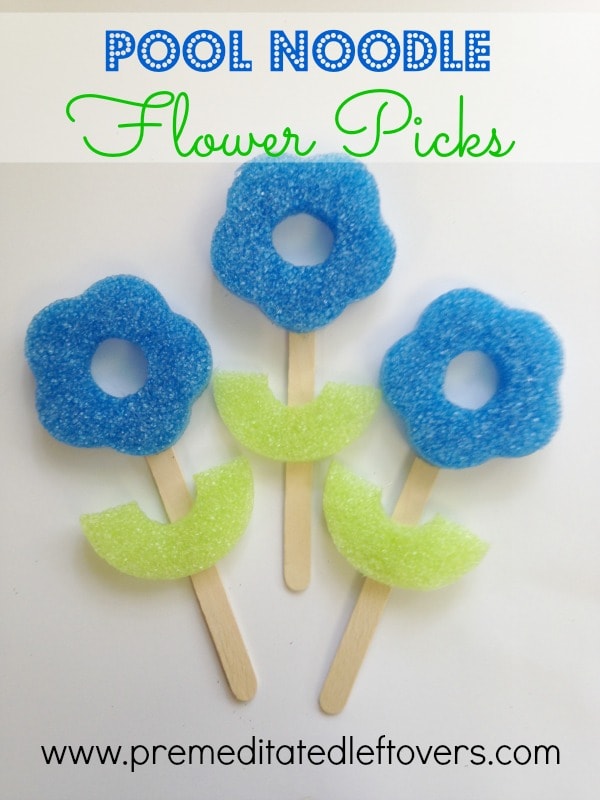 There are literally hundreds of ways to use pool noodles. These pool noodle flower picks are a great way to get kids crafty, and create some cool plant decor at the same time. You can make your own pool noodle flower picks in just minutes, and using nothing more than a few pool noodles and some glue. Here is how you can get busy crafting your own!
Pool Noodle Flower Craft for Kids
Supplies needed:
Green pool noodle and flower shaped pool noodle in your choice of color
Serrated knife
Wooden craft sticks
Hot glue, glue gun
Your local dollar store should have all of the supplies you see here!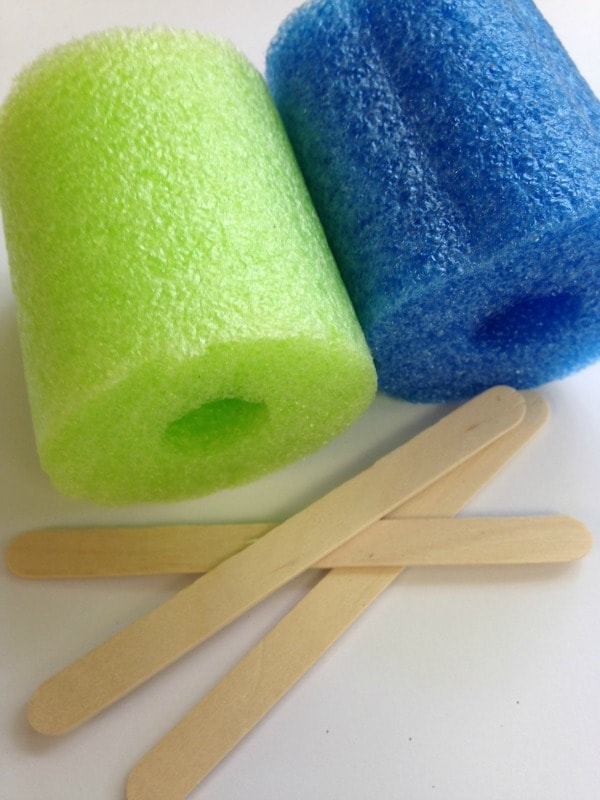 Directions:
1. Begin by cutting your flower shaped pool noodle into 1/2 inch sections. The flower shaped pool noodle is like the blue noodle above. You will notice it has ridges in it that create a flower shape. If you use any other kind of noodle, the flower will just look like a circle instead of an actual bloom like you see below.
2. Create the leaves for your flower picks next. Do this by cutting 1/2 inch segments. Then, take the segments and cut them in half, creating the foliage look.
3. Add some glue to the back of the flower cut out. Press it to the top of your wooden popsicle stick. Press in place until secure.
4. Add some glue to the back of your green leaves. Press them about half way down the wooden popsicle stick. Hold in place until secure.
Once your pool noodle cut outs are in place and dry, your pool noodle flower picks are ready to be used. To use them just press them into the soil of your favorite plants. They can go directly into the ground or even into flower pots.
How cute are these? Gather up your old pool noodles or head to the dollar store for some new ones and give these easy pool noodle flower picks a try. They are a great way to dress up your plants and a super fun craft for kids to enjoy.
More Crafts for Kids