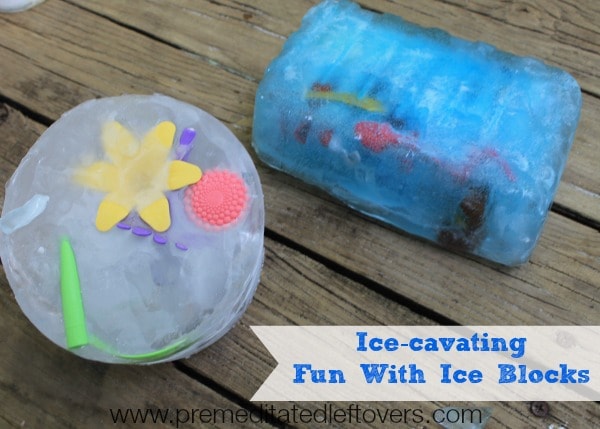 This super fun activity is a great way to kill an hour or so on a hot summer day. We have done this several times the last couple summers and the kids never get bored with it. This is a great activity for babies, toddlers, and preschoolers.
Ice-Cavating: Summer Fun with Ice Blocks
To create the blocks I filled plastic containers 3/4 of the way with water. I used and old cool whip tub and the plastic container from a big lunchable- hoarder? maybe.. I prefer Upcycling Genius, or Queen of Repurposing. Ok back to the instructions.. Fill your container with water, add small plastic toys- fast food toys are great for this, small action figures, or similar items. To change things up for my son a bit I added 2 drops of food coloring before adding in his pirates and pirate paraphernalia. For my daughter I used some of these butterflies and flowers.
Set out some excavating tools like: spoons, water, salt, mallets, etc.. Let the kids experiment and do a little Science while they figure out what works best for melting the ice. This is a great opportunity for exploring water in various states and its just plain old fun.
They tried banging with the spoons, as well as digging with them. Pouring water and salt was pretty fun too. My little boy, as little boys often do, thought throwing it would be fun as well as effective-and it was to some degree. Finally once they had them partially broken down they tried dunking the smaller pieces into the bucket of water- success! This was a pretty quick way of getting to the treasure inside
Mostly I like this activity for its fun factor, but I love to be able to include learning whenever I can. This activity involves -sensory, problem solving, science, if more than 1 child-cooperation skills, and more. It doesn't hurt that it is quick and easy to pull together, as well as free!
Fun Ways to Keep Kids Cool:
Outdoor Water Activities for Kids
10 Water Play Activities for Kids
Come back each day as we share a new frugal summer activity in our series 100 Days of Frugal Summer Fun!