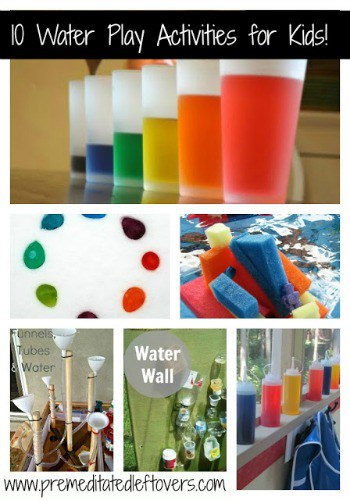 It's summer, and it's hot. The only way to truly beat the heat is to stay cool by either staying indoors or playing in the water. And what would a child rather do? Play in the water! There are so many water-based activities that can help your child learn this summer – so why not throw a couple together and let them explore their creativity while staying cool?
We've compiled a list of 10 awesome water play activities that we think you (and your kids) will love! Some are easy, and some are a bit more complicated – choose the water play ideas that are best for you and your child's age and stage.  Keep your kids entertained while staying cool this summer!
10+ Water Play Activities for Kids
Water Play Experiments / Nurture Store
Floating Sponge Sculpture / The Chocolate Muffin Tree
Homemade Sponge Water Bombs/ Premeditated Leftovers
Water Wall / Let the Children Play
Colored "glass" tutorial / Hurrayic
Making Music with Water / Little Page Turners
Funnel Tubes and Water / 2 Big 2 Little
Homemade Sprinkler / HomeSpun Threads
Squeezable Water Play / Teach Preschool
Ice-Cavating – A Giant Ice Cube Dig / Premeditated Leftovers
Water Painting / Share and Remember
3 Ways to Make a Toy Boat/ Premeditated Leftovers
Some of these ideas are quick and easy. A few are a little more involved. Choose an activity based on your schedule, the items you have on hand, and your kids play level. All of the above water activities have the ability to keep your children entertained for hours while keeping them cool this summer!
More Activities for Kids
5 Fun Activities Using Drinking Straws
How to Make Toy Boats – 3 Different Ways
Outdoor Water Activities to Help Kids to Beat the Heat
4 Fun Pool Noodle Crafts for Kids
Thanks to Kendall of  Songbirds and Buttons for compiling the links and creating the image for this post.