Are your children ready to haul out the sprinkler and have some cool summer fun? If so, why not craft these easy, no-sew sponge water bombs for them to use?
You can make your own sponge water bombs in just seconds (yes, seconds!) and use less than $2 in supplies. When you are done, you have the perfect water bomb for soaking friends with. Here is how you can get started!
How to Make Sponge Water Bombs
Supplies needed:
3 sponges in your choice of colors (Head to Dollar Tree for a nice assortment at just $1 a package)
Scissors
String or twine (choose something strong!)
Directions:
1. Begin by cutting each of your sponges into 3 even strips. Please note that you want the strips to be cut long ways, not short. If you cut them short they may be too hard to tie up.
2. Once your sponges are cut into even strips, stack them up. Your want to stack them 3 x 3 tall and wide.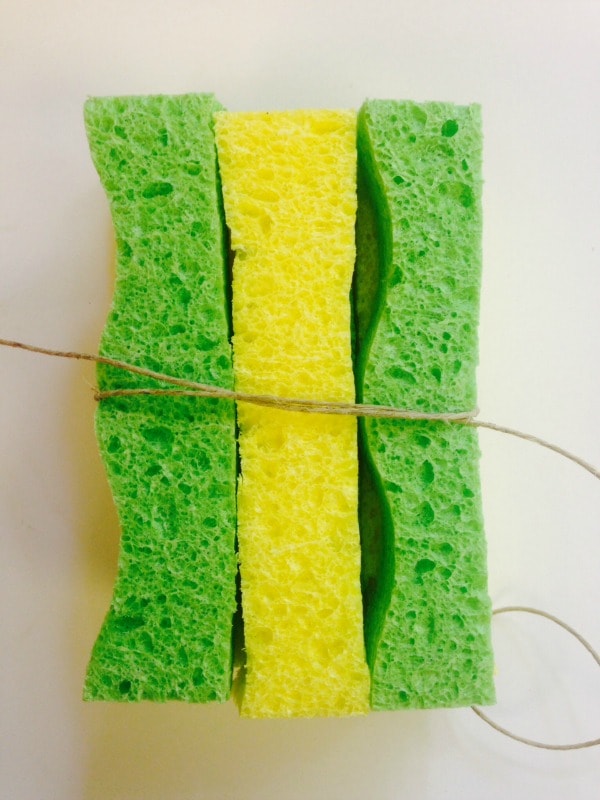 3. You now want to secure the stack. Wrap the sponge strips with a piece of twine or string. Place the string as even in the center as possible and then pull as tight as you can. Secure the string into a double knot and remove any extra string that is hanging. Or, if you wish you can leave it intact so kids can swing their water bombs.
Your sponge water bomb is now ready to be enjoyed! Just soak it in water and after a few seconds, it is ready to throw. How easy is that? You can use it in sprinklers, swimming pools, or even pop one into the bathtub for some water fun.
Gather your supplies and try creating a sponge water bomb just like the one you see here. It is sure to offer children some hands-on fun this summer!
More Water Fun for Kids
10 Water Play Activities for Kids
How to Make Ice-Cavation Blocks
5 Fun Activities Using Drinking Straws
How to Make Toy Boats – 3 Different Ways