This Snowman Christmas Ornament craft is a fun and simple way for kids to decorate the tree. It is also a sweet, homemade gift for friends and relatives.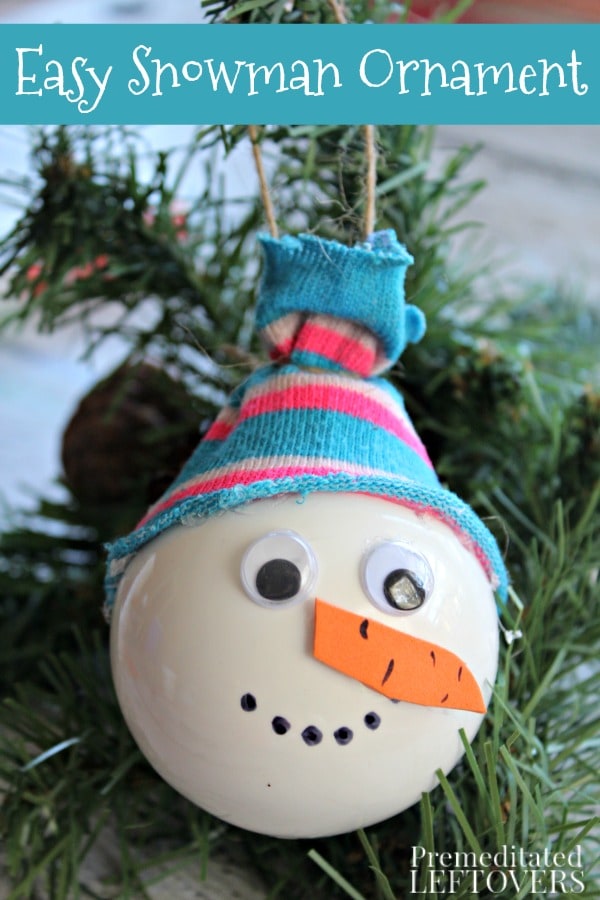 One of my favorite activities during the Christmas season is to make this Snowman Christmas Ornament craft. I really love turning a blank canvas into something unique for our tree or to gift to friends and family. They also make a great decoration added to packages or bags and tucked into wreaths.
If you are using plastic ornaments, you will find this is a great craft project to make with your kids. Just give them a craft smock or old t-shirt to keep their clothes away from the paint, and let them create their own unique and cute snowman ornaments!
Snowman Christmas Ornament Craft for Kids Tutorial
Supplies Needed:

Directions:
1. Remove the cap or hanger from the top of the clear ornament.
2. Pour about a tablespoon of white craft paint inside the ornament then roll around to coat the entire inside surface. Cover the opening with a napkin and shake hard as well to help distribute, add more paint if needed.

3. Draw a "coal" smile on your snowman's face, hot glue on a small piece of orange foam cut into a carrot shape.

4. Place ornament upside down on top of a disposable cup and allow excess paint to drip out for 2-3 hours.
5. When the excess paint has been removed wipe off the neck of ornament and replace cap/hanger. Tie on a 6" piece string or twine to make your snowman ornament easy to hang.

7. Take your child's sock and cut it in half, use either piece and slip it over the hanging string. Starting in front run a bead of hot glue 1" at a time, where you want your hat to sit until you have worked it all the way around. Use a craft stick or something to press the fabric into the hot glue as you go around until it is cooled and set- your fingers will thank you!

As you can see, this is a fun snowman ornament idea to make with your kids. You'll have to supervise or at least complete the gluing for safety with younger hands, but otherwise, it is a fun craft that kids will love making with you for the holidays.

More Christmas Craft for Kids:
How To Make Christmas Tree Paint Stamps