Kids will love staging miniature pieces to create this whimsical Winter Fairy Garden. They may even lure some snow fairies with this fun winter project!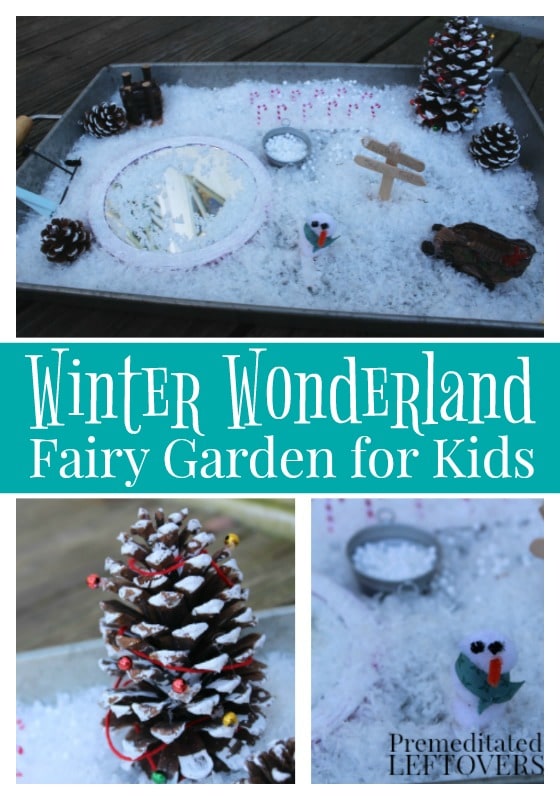 Fairy Gardens are sweet, magical, and just plain fun. Anything that comes in miniature size is just a delight to look at and play with. Even for adults. Put it in a glittering snowfall theme and it is even more so. My little and I had so much fun shopping for and making items for our Winter Fairy Garden that we couldn't wait to share it with you and hope you enjoy making your own as much as we did.
Winter Fairy Garden Tutorial
Before we started we went to the craft store and browsed in the mini Christmas tree section and dollhouse miniature section of the store for a few new pieces to add to our fairy garden collection. We grabbed some tiny candy canes, a little sleigh, and a firewood pile from the mini section. If you don't already have a lot of craft supplies on hand, here are some other things you might want to grab for making your fairy garden look like a winter wonderland from the craft section.
Materials Needed:
white pompoms
craft sticks
mini craft sticks
white pipe cleaners
small mirror
fake snow
1 base for the garden
I picked up a galvanized tray that was the perfect size and height for a fairy garden. You can find similar ones at your local craft stores year round, hunt up something at the thrift store, or use something you have on hand. You just need it to be solid, flat, and not too deep.
Directions:
Sprinkle in an inch or so of fake snow. The shredded type is best for this as your fairies and accessories may not be able to sit upright with the other types of fake snow. Now you can get on with the really fun part of making some of your accessories and putting it all together.
The things that I knew I wanted to make were a skating pond, a sign for the "square", a candy cane lane, a snowman, Christmas tree, and little fairy skis. They were simple, inexpensive, and really added to my winter look. Here are quick tutorials for each.
Skating Pond- For the skating pond, I grabbed a simple round mirror. I couldn't find a white one so I just added a coat of white paint to the pink frame on the mirror. After the paint dried I nestled it down into the snow or you can secure it with a dab of hot glue if you like. Add a very light sprinkling of snow around the edges to blend it in a bit more.
Sign- Write your words on mini craft sticks with a pen or pencil. Cut one end into and arrow with a straight edge to create your pointer, then glue them horizontally across a vertical one for a post. Secure the end of your post onto yet another stick laid flat. The trick is to hold each joined piece in place until the hot glue sets. If you like, while the glue is still hot sprinkle with snow to make it fit your scene even better.
Snowman- You can probably tell that this sweet little fairy sized snowman is made by hot gluing 3 white pompoms together. His features are made from chenille stems and 2 small google eyes. He is sweet isn't he?
Candy Cane Lane- Take two standard sized craft sticks, paint them white, and allow them to dry. Hot glue miniature plastic candy canes down the center of each. Sweep aside your snow wherever you want your candy cane lane and set your rails in place. Gently sweep snow back over them to cover the wooden base.
Snow Skis- These were pretty fun to put together and took just about 5 minutes. Paint them whatever main color you like, add sporty stripes on end, and allow them to dry. To make ski poles I painted toothpicks and glued on small loops of black chenille stems for handles. Lay them casually in your scene, ready to be picked up by a fairy at any moment.
Christmas Tree- For the tree in the square we used a pinecone and painted the ends with white to resemble snow. Glue small beads around the tree, loosely drape some colored string, and you have a simple woodland Christmas tree.
For the rest of our Winter Wonderland Fairy Garden we placed a few other items to set the scene. We used a miniature woodpile and a bucket of fairy sized snowballs.
You can add your own little fairies or leave it open waiting for fairies to visit in the wee hours and sprinkle a little of their own magic dust around.
More Winter and Christmas Crafts for Kids:
Snowman Christmas Ornament Craft
Popsicle Stick Penguin Puzzle Craft
How to Make Christmas Tree Paint Stamps
DIY Advent Wreath Craft for Kids