A delicious family dessert favorite lightened up with fresh fruit and Greek yogurt in place of sugar laden ice cream. These Banana Split Yogurt Pops fill your craving for sweets without overdosing you on sugar, fat, and calories; the best part is that the kids love them!!! Beside the fun of eating these pops, the kids love making these themselves, layering, adding more of this, less of that: creating the perfect combination for their treat.
Banana Split Yogurt Popsicles
We made ours in these fun monster Popsicle molds you can find on Amazon.
Ingredients:
1 cup plain Greek Yogurt
3 Tbsp. honey
1/2 banana
4 strawberries
1 Tbsp. pineapple preserves/jelly
Chocolate syrup
Directions:
Combine plain Greek yogurt and honey, stirring well to combine.
Drizzle the inside of your popsicle mold with chocolate syrup.
Add a dollop of yogurt, then alternate with sliced strawberries, bananas, and pineapple jelly/preserves until mold is full. Press down gently with spoon to fill completely.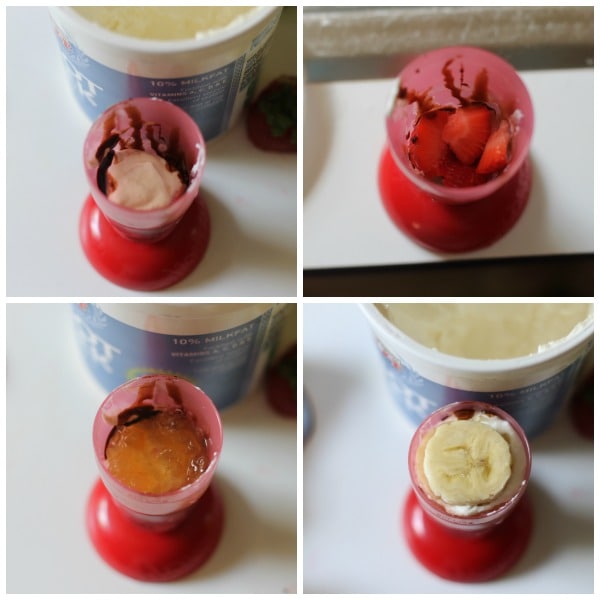 Place in freezer until solid, run mold under warm water to loosen and it should slide right out.
Enjoy!
The kids were crazy about this flavor combination…
Looking for some more tasty popsicle recipes? Try one of these…
More Homemade Popsicle Recipes