Today I have another unique and special tutorial for decorating your Christmas sugar cookies. Have you ever thought of the different things you could make from a single cookie cutter shape? This beautiful Holly Leaf Sugar Cookie is made from a simple maple leaf cookie cutter! Making this cookie and other beautifully decorated sugar cookies is something you can do at home by following our simple instructions.
How to Make Holly Leaf Sugar Cookies
Supplies & Ingredients:
If you don't have a favorite cookie recipe, try our Christmas Sugar Cookies or see our Easy Sugar Cookies Recipe.
Instructions:
Begin by dividing your royal icing. You'll need a small amount of white, a small portion colored red, and a fair amount to be colored green. When coloring the royal icing, use a little bit of gel coloring on a toothpick and stir until the gel is completely mixed in. Add food coloring a little to a time until desired color is achieved.
Fill your piping bag with green royal icing.
Carefully pipe a fine line around the outside of the cookie. Line all of the cookies before continuing to the next step.
In a small bowl, mix 1 cup of green royal icing with water to create the "flooding" icing. Our Royal Icing Recipe and Instructions explain more about this.
Carefully "flood" each cookie with green icing, keeping it within the outline you created.
After all the cookies have been flooded with green icing, fill a piping bag with the white royal icing. Carefully pipe the holly leaf outlines onto the cookie as shown. I piped the center leaf first and then the partial side leaves next. Pipe the leaf outlines on all the cookies before continuing to the next step.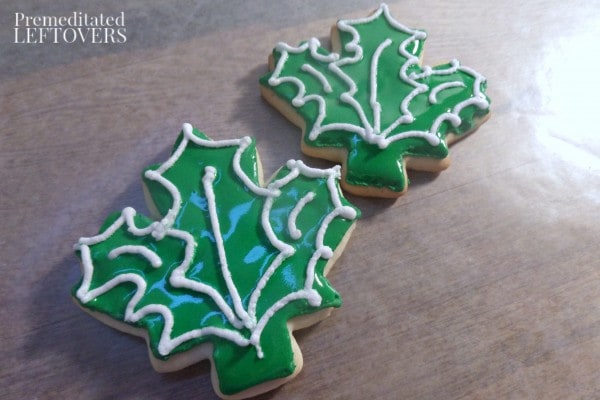 For the last step, fill a piping bag with the red royal icing. Add three medium size red dots to the base of each cookie for berries.
Let the icing harden completely before stacking or serving.
More Christmas Cookie Ideas: