Decorating Sugar Cookies is a traditional holiday activity. Below are tips to make decorating cookies a little easier.

Tips for Decorating Sugar Cookies
How to Make Colored Sugar:
Put plain white sugar in bowls and then add a couple drops of food color to make colored sugar. I also make colored coconut in this manner. Coconut adds texture to trees, bunnies, birds, and angel wings.
How to Make Colored Frosting:
I make a batch of the buttercream frosting recipe which is posted below. I divide the frosting between small bowls and add food color to make the desired color. I put a knife in each bowl for spreading the frosting on the cookies. If there is any leftover, I put a lid on the bowl and save it to make graham cracker sandwich cookies.
Other Food Items to Use to Decorate Cookies:
Raisins, cranberries, nuts, coconut, and colored candies are great for adding detail to cookies. A little goes a long way, so you can buy an individual serving of mini M&M's instead of the 16-ounce bags.
I buy the fancy sprinkles when they go on sale after a holiday. You can use the red Christmas sprinkles for decorating Valentine's Day, and the green for St. Patrick's Day…
If a cookie needs piping. I spoon a small amount of frosting into a plastic bag and cut off a corner, twist the bag above the frosting level, and then squeeze the frosting onto the cookie. You can use either the buttercream recipe below or you can use this decorating icing recipe.
I also picked up a couple of Norpro Decorating Set
(they are usually less than $6.50 each). I fill them with colored frosting so that my kids can add texture to the cookies without forcing me to buy the decorator tubes from the store.
Easy Sugar Cookies Recipe
Easy Sugar Cookies
Ingredients
1 cup butter
1 cup sugar
4 eggs
2 teaspoons vanilla
4 cups all-purpose flour (you can use gf flour)
3 teaspoons baking powder
1 teaspoon salt
1 tablespoon orange zest (optional)
Directions
Cream butter and sugar. Add eggs and vanilla. Beat for about one minute.
Mix dry ingredients in a separate bowl.
Add dry ingredients to wet ingredients. Knead dough well.
Refrigerate for at least two hours.
Slice or roll out to use cookie cutters.
Bake cookies for about 10 minutes at 350 degrees. Cookies should be very pale when done.
Let cool on a cookie rack. When cool you can decorate the cookies if you like.
Notes
Kitchen Tip: Use a wooden cutting board inserted in a pillowcase to roll out cookie dough. Turn the pillowcase inside out before you put it in the wash.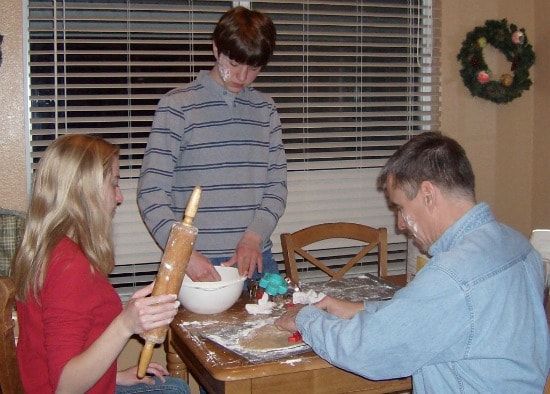 Yes, they all have the white hand of Saruman on their face. If I give them flour this is what happens every. single. time!
Buttercream Frosting Recipe
Butter Cream Frosting
Ingredients
½ cup butter, softened
4 cups powdered sugar
2 - 4 tablespoons milk
2 teaspoons vanilla
Directions
Beat butter, sugar, vanilla, and 2 tablespoons of milk in a blender on low speed until the mixture is smooth.
If it is too thick, add milk a little bit at a time until it is the desired consistency.
Add food coloring if desired.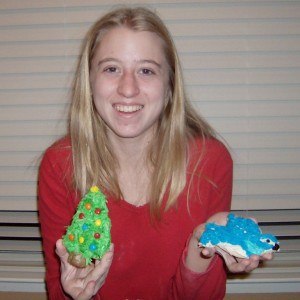 What is your favorite cookie to make? Does the whole family get in on the action or do they just show up and "make sure that the cookies are safe for human consumption" once the cookies have cooled?
More Holiday Treats: