Do you struggle to come up with a healthy, quick & easy meal plan for your family? Are you rotating the same few recipes for dinner over and over again? I am excited to share that I have joined up with several food bloggers to create a Menu Plan with 31 healthy recipes that are fast and simple to make.

Healthy, Quick & Easy Meal Plan
This month we have gathered 31 healthy recipes that come together quickly. These recipes have been tested in our homes by our families, so the recipes are family-friendly and quick and easy to make. We also have marked which recipes are gluten-free, dairy-free and egg-free to make it easier for you find recipes that fit your dietary needs.
Join our FACEBOOK group now! In addition to this month's free meal plan, this group will feature new recipes, cooking tips, and time-saving tricks to help you get dinner on the table despite your busy schedule. We also invite you to share your pictures, experiences, and tips with us!
Printable Healthy Family Meal Plan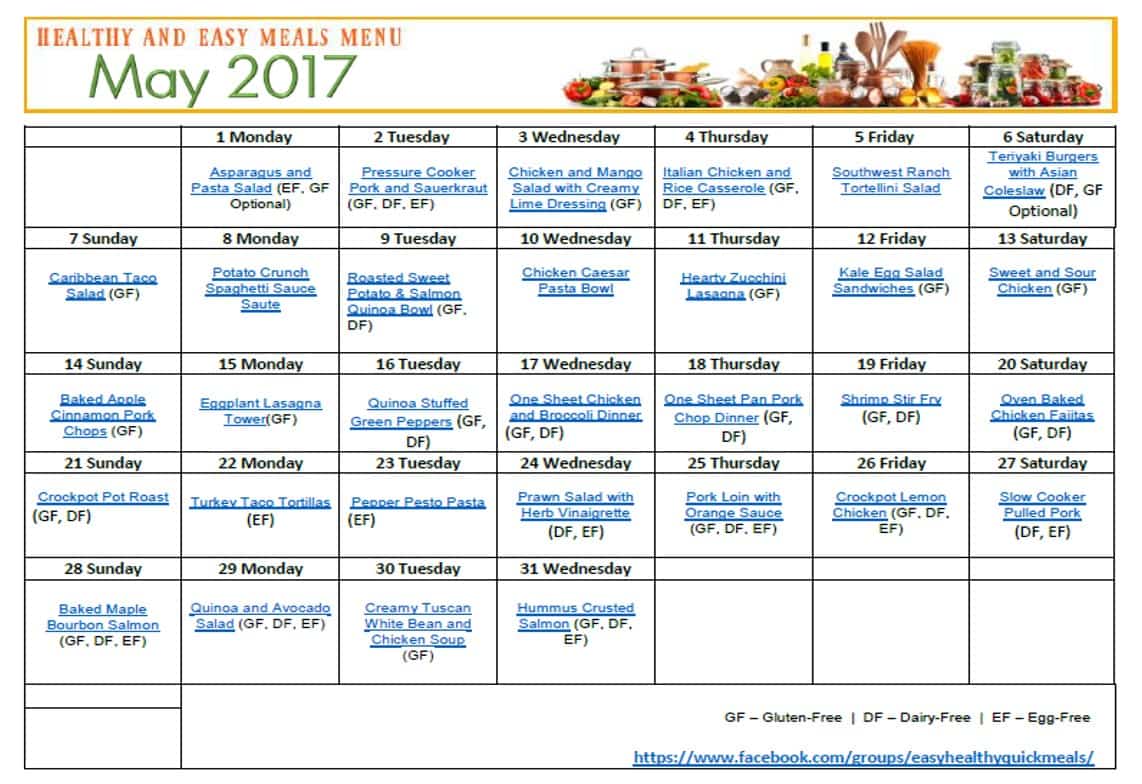 Healthy Dinner Meal Plan for May
Click on the recipe name below to be taken to the complete recipe where you will find the ingredient list and directions. This list includes 31 healthy meal options that you can use to create your own weekly menu plan. You can choose several of the dinners below to mix with your family's favorite recipes to add some variety to dinner time.

4 Quick & Easy Dessert Recipes
We are each sharing one of our favorite quick and easy dessert recipes to make it easy for you to make a few delicious treats for your family.
Don't forget to join our Easy, Healthy, Quick Meals Facebook Group for more healthy recipes and easy cooking tips.