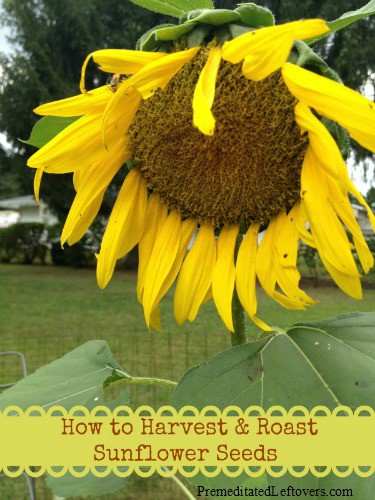 The early fall months are the time of year where sunflowers peek above everything else growing in your garden. Their tall and gracious stems send them straight to the sky, putting on a brief and colorful show before the weight of their seeds begin to pull them back down. If you have a sunflower or two in your garden, you might be wondering what to do with the abundance of seeds they provide. The good news is it is so easy to harvest and roast these seeds, creating a snack that if frugal and healthy. To learn more about how to harvest and roast sunflower seeds, take a look below the few and simple steps you need to take to do so!
How to Harvest and Roast Sunflower Seeds:
First, let's look at how to harvest the sunflower seeds. It is only advised that you harvest seeds to eat that have not been treated by insecticides. Once you know you have a clean flower, you are ready to remove the seeds. To do this, you can cut the large bloom, or head, off of the top of the sunflower. Then, removing the seeds is as easy as picking them off with your fingers. This is a little tedious, so invite the kids to help you. They will enjoy doing this and their little hands are perfect. Once your seeds are all pulled off, you can then prepare to cook them.

How to Harvest and Roast Sunflower Seeds
Ingredients
1 cup of sunflower seeds
Non-stick cooking spray
1 teaspoon of sea salt
Directions
Place the seeds in a strainer and rinse them well. Lay them flat on a paper towel to dry.
Once the water is absorbed, spray the inside of your skillet well.
Toss the seeds in the skillet. Keep the heat on a medium setting and keep stirring the seeds while they cook. This will prevent burning and sticking to the pan.
Stir for 10-12 minutes on medium heat and sprinkle with the sea salt. Stir for another 2-3 minutes.
Your seeds will begin to make a popping sound and lighten in color when they are done. Remove from the heat and allow to cool.
There you have it! As you can see, harvesting and roasting your own sunflower seeds is a cinch. Kids will love eating these as an after-school snack, or just keep a bowl of them out to munch on during fall football games.
Happy harvesting!
More Recipes Using Seeds
Pumpkin Pie Spiced Roasted Pumpkin Seeds