My youngest son doesn't have much of a sweet tooth. For years he skipped over all desserts except for vanilla ice-cream. But the first time he tasted pumpkin pie he fell in love. So I started trying to make other pumpkin flavored treats for him. He has enjoyed them all. I always keep a supply of pumpkin puree on hand so I have it available to make him a treat.
When my husband makes pancakes he just uses the egg whites. I can't stand to see the yolks go to waste, so I have been using them to make pudding. One day after I had made a batch of chocolate pudding, my son asked if I could make pumpkin pudding. I told him we could try, but I had never made it before so it might take a few tries to get it right. Fortunately he loves to help out in the kitchen and he was very happy at the  idea of helping me create something new, especially since it was his idea.
I gave up refined sugar last month, so I decided that pumpkin pudding would be a good opportunity to try cooking with Stevia In The Raw® . Pumpkin is naturally sweet and naturally requires less sweetener. I asked my son if he would mind combining our pumpkin pudding experiment with my Stevia experiment and he was on board as long as he got to do the measuring.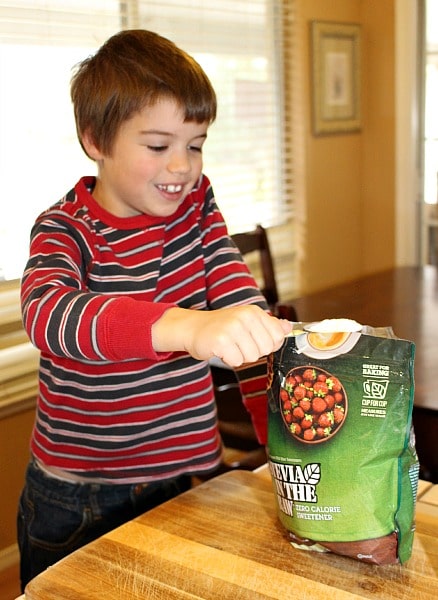 Since I don't let him cook over the stove yet, I let him whisk the Stevia In The Raw® together with the cornstarch before I started cooking.
It seems appropriate to have my son help me while I am using In The Raw®, where sweetness runs in the family. I try to involve my son as much as I can in my cooking and baking. When there is something that he can't help with for safety reasons, he watches and takes note. I love having him keep me company in the kitchen!
To create a smooth pudding, you need to whisk it the entire time it is cooking. If for some reason it does turn out lumpy you can run it through a strainer before chilling it.
Once your pudding is done cooking, place it in a bowl and cover it tightly with plastic wrap to prevent a skin from forming. Waiting for the pudding to chill is the hardest part of this recipe!
While we were waiting for the pudding to chill, my son and I  decided to have some fun and turn some of the pudding into Jack o' Lantern Pies for the kids. While I watch my kids sugar intake, they are not on a sugar-free diet, so we used chocolate chips and licorice to turn the mini-pumpkin pies into Jack o' Lanterns. We started by spooning pumpkin pudding into individual graham cracker pie shells.
Then we used chocolate chips to make eyes and a mouth on the pumpkin pies.
I cut up  green apple licorice in to 1 1/2 inch lengths and used them to make the stems.
These Jack o Lantern pies made a fun after school snack for my kids. My son has already requested that we make them again for our Halloween party and we are already brainstorming ways we can turn these pumpkin pudding pies into turkeys for Thanksgiving.
Sugar-Free Pumpkin Pudding Recipe

A delicious sugar-free pumpkin pudding recipe using Stevia In The Raw®.

Ingredients

¼ cup Stevia In The Raw®
2 tablespoons cornstarch
1¾ cups milk (or vanilla almond milk)
2 egg yolks, beaten
1 cup canned unsweetened pumpkin
1 teaspoon vanilla extract
1 teaspoon ground cinnamon
½ teaspoon ginger
½ teaspoon ground nutmeg

Directions

Combine Stevia In The Raw® and the cornstarch in a medium saucepan.
Thoroughly mix the milk and egg yolks.
Place saucepan over a medium flame. Gradually add the milk mixture to the Stevia mixture, whisking constantly. Bring the mixture to a boil, then cook for 1 minute, stirring constantly. Remove from heat.
Combine pumpkin, vanilla, and spices in a bowl. Slowly add pumpkin mixture to milk mixture, whisking constantly. Place saucepan over low heat and cook for 3 minutes, stirring constantly.
Pour pudding into one large bowl and cover surface of pudding with plastic wrap. Chill.
Disclosure: Compensation was provided by In The Raw®, via Mode Media.  The opinions expressed herein are those of the author and are not indicative of the opinions or positions of In The Raw®.