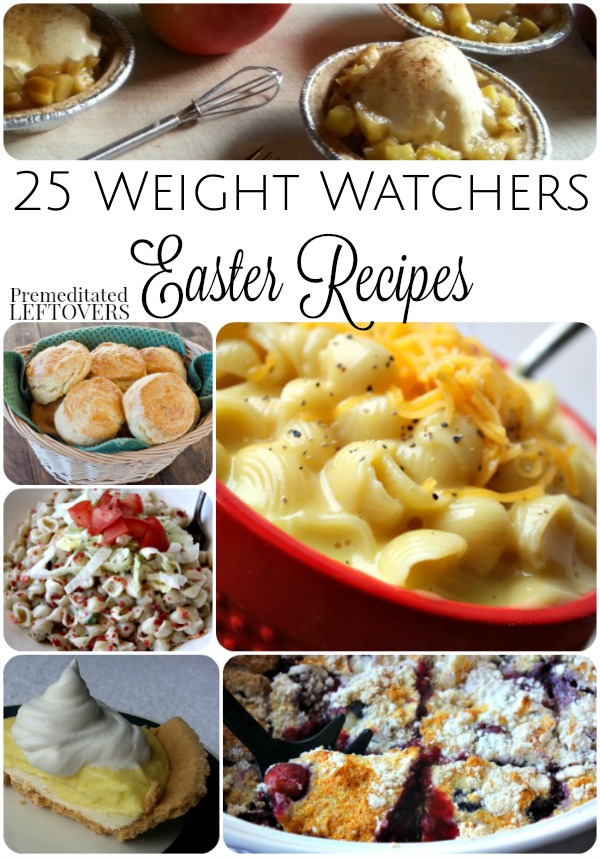 I love this list of Weight Watchers Easter Recipes. Not only can you enjoy a traditional ham for Easter dinner, there are tons of great light versions of all the classic recipes. You can even have yummy deviled eggs on your Weight Watchers diet! Substitute some of your classic cheesy and creamy dishes with lighter versions that are high in flavor while staying low in points value.
Remember that one of the best parts of Weight Watchers is that truly any food is Weight Watchers friendly, you just have to calculate the points values for the recipe. There is the Classic, Points Plus or Smart Points program, so the points may vary some from program to program, but most are fairly close in points value in these recipes.
25 Weight Watchers Easter Recipes
Honey Mustard Spiral Slow Cooked Ham from Simple Nourished Living
Raspberry Mustard Glazed Ham from Weight Watchers
Spaghetti Squash Gratin from Slender Kitchen
Weight Watchers Macaroni & Cheese from Madame Deals
Weight Watchers Icebox Lemon Pie from You Brew My Tea
Creamy Mashed Cauliflower from Everyday Maven
Skinny Garlic Mashed Potatoes from The Taste Place
Zucchini Tots from Skinny Taste
Crispy Corn Fritters from Emily Bites
Weight Watchers Mini Apple Pies from You Brew My Tea
Healthier Deviled Eggs Recipe from Snack Girl
Feta Stuffed Mushrooms from All Mommy Wants
Weight Watchers Key Lime Pie from Stockpiling Moms
Broccoli Cheese Casserole from Lemony Thyme
Weight Watchers BLT Pasta Salad from Madame Deals
Cheesy Potluck Potatoes from Emily Bites
Yogurt Dill Potato Salad from The Yummy Life
Dijon Roasted New Potatoes from Weight Watchers
Low Fat Pasta Primavera from Stockpiling Moms
Buttermilk Biscuits from Jo Cooks
Weight Watchers Mixed Berry Cobbler from Madame Deals
Roasted Sweet Potato & Carrot Mash from Everyday Maven
Weight Watchers Asparagus & Pea Risotto from Fabulous Foods
Weight Watchers Lemon Bars from i Save A2Z
Cauliflower Poppers from Jo Cooks
If you are looking for healthy choices, this list of Weight Watchers Easter Recipes is the perfect place to look. From yummy pasta and potato salads to the delicious bright flavors of pies or desserts, this list has everything you want for a classic Easter dinner with your family. You can even enjoy your favorite cheesy casseroles and biscuits with these great recipes!
More Weight Watchers Inspired Recipes:
15 Slow Cooker Weight Watchers Recipes
25 Weight Watchers Appetizers Recipes
20 Weight Watchers Dessert Recipes
20 Weight Watchers Breakfast Recipes