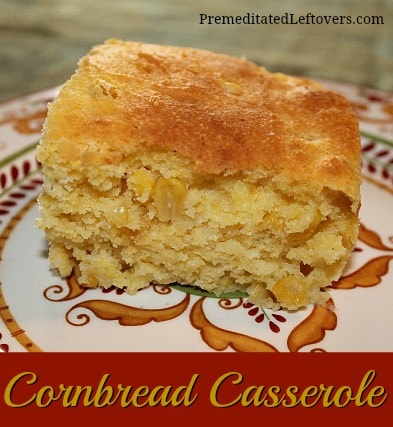 One Thanksgiving after tasting my cousin's corn casserole, I came home and modified my cornbread recipe to create my own version.  I like my recipe because it gives me complete control over the ingredients since it is made from scratch. My kids like it because they can pick it up and eat it with their hands like bread. This works well with soups and chili recipes, but I also serve it as a side dish at more formal dinners because it is always popular with the kids.
When I make this recipe for Thanksgiving, I double the ingredients and cook it in a 13 x 9 pan. I often serve this in place of bread at the holidays. I make it the day before and just heat it up on the day I am serving it.
Cornbread Casserole
Prep time:
Cook time:
Total time:
Ingredients
1 egg
¼ cup butter, melted
¾ cup creamed corn
¾ cup corn, drained
1 cup plain yogurt
¾ cup corn meal
1¼ cups all-purpose flour*
2 teaspoons baking powder
½ teaspoon salt
¼ cup sugar or 3 Tablespoons agave nectar
Directions
Preheat oven to 350 degrees. Grease pan.
Combine all ingredients in a medium bowl, stir well.
Pour into a 8 x 8 greased baking pan.
Bake at 350 for 40 – 45 minutes.
* To make this gluten free use all-purpose gluten free flour.