Do you love fish and seafood, but hate the price? Try these tips for saving money on Seafood to help you include fish in your grocery shopping trip without breaking the budget.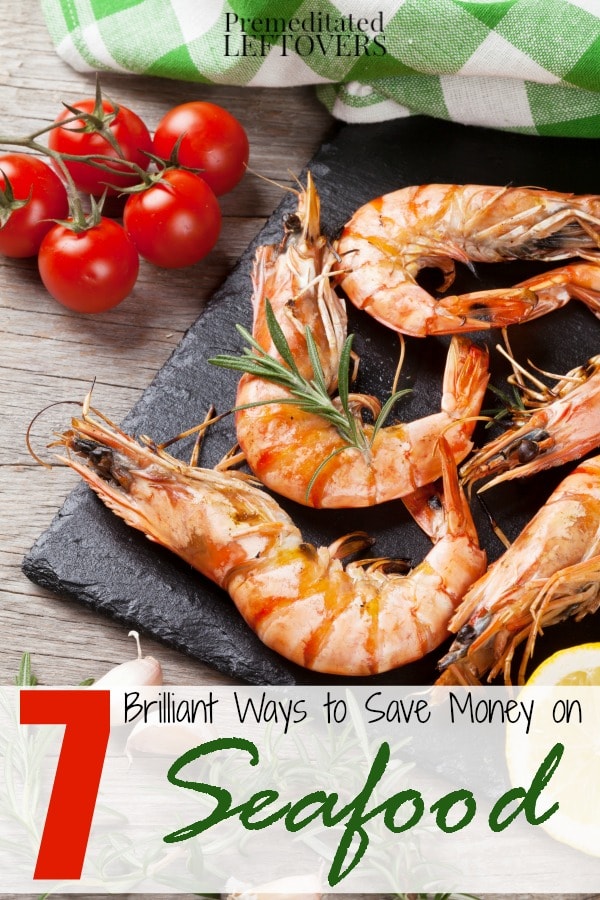 Seafood is not only tasty, but it is so good for you. It is naturally low in fat and full of nutrients that you body needs to perform at its best. If you have perused the fish selection at your local food market lately, you may have suffered from a mild case of sticker shock. With shrimp as much as $14.99 a pound and other fish varieties not far from that, a yummy fish dinner can prove to be quite expensive. Don't let this keep you from buying and enjoying this tasty and healthy food. If you plan your shopping trip carefully and follow a few tips and tricks, you can easily save money when buying fish. Below, you will find 7 tips for saving money on seafood that you can try the next time you want to enjoy a great fish dinner.
7 Tips for Saving Money on Seafood:
1. Go for flakey, white varieties.
Opt for flaky white fish varieties which include whiting or pollock. If you like Halibut but hate the high price of it, these varieties offer a similar flavor but at half of the cost. Just season as you would halibut and you may not know the difference.
2. Replace your tuna craving with mackerel.
Fresh tuna can be as much as $20.00 a pound. If you like an oily variety of fish, then give a fish such as mackerel a try. Again you will pay about 50% less and still get the flavor and texture you are looking for in oily fish varieties such as tuna.
3. Consider frozen fish.
You can find all sorts of seafood varieties in frozen form, and these will cost you a great deal less than fresh. You can find shrimp, salmon, clams, and more in your frozen foods section and they are still of great quality. The best part is frozen seafood runs about 40 percent less than fresh.
4. Buy seafood from local wharehouse stores.
If your family tends to eat a great deal of fish, try shopping at local warehouse stores. You can find fish in bulk and save money there as opposed to buying at a traditional grocer. You can find all sorts of varieties including tilapia, clams, catfish and more and pay a fraction of the cost by buying in bulk. Selections may change weekly so be sure to check in often and see what is available.
5. Buy expensive varieties when they are on sale.
If you enjoy pricey fish varieties such as orange ruffy, opt to treat yourself only when it is on sale. You can easily wrap and freeze what you are not going to use right away and stock up for a little while. During non-sale cycles, enjoy less expensive varieties. You can also save by buying smaller portions during non-sale cycles, for example, lobster tails as opposed to a whole lobster and shrimp tails as opposed to whole shrimp.
6. Stock up during the month of March.
March tends to be great months for finding fish at its lowest prices. During these months many faiths are having fasts from meat, and fish is marked down to entice sales. Stock up on more expensive varieties at this time.
7. Consider canned fish.
While the thought of canned crab or lobster is not immediately appealing, they can be perfect when making certain recipes. If you are making certain dips, spreads and salads, a canned variety can cost you much less than fresh and still be just as tasty. Look in your tuna/canned chicken section to find a wide variety of canned seafood products for under $3.99 a can.
8. Consider buying from a wholesaler. There are companies such as Zaycon that allow consumers to buy large quantities of fish or seafood monthly or quarterly from frozen or refrigerated trucks at a deep discount. Visit Zaycon's site to see when they are coming to your area. Use code ZAYCON20 on your first order from Zaycon to save 20% off your order.
Don't forget coupons! Here are the 10 best places to find seafood coupons. You can also use the Favado app to find the best sales on fish at your local grocery stores.
Just because you are on a budget, you don't need to give up the taste and health benefits of seafood. Follow these tips the next time you are looking to purchase some tasty seafood, and see what a difference it makes to your wallet!
More Ways to Save on Groceries
This post was originally published in July of 2013. It was updated on July 21, 2017.