You don't have to give up casseroles just because you had to give up gluten. Here are 20 delicious gluten-free casserole recipes.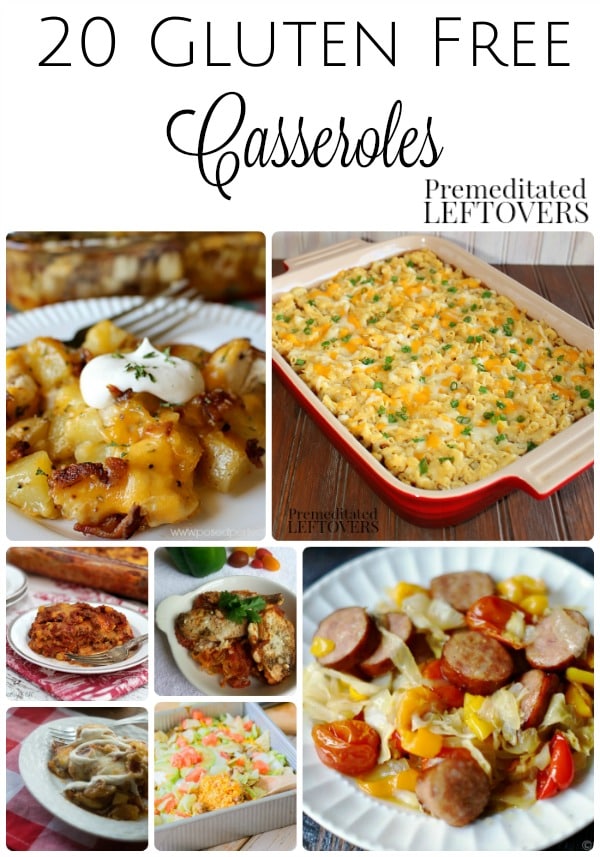 These 20 Gluten-Free Casserole Recipes scream comfort food. A casserole is one of the best ways to stretch food a bit further, and make dinnertime easy for you to cook. Most casseroles contain a protein, sauce, and starch with a few vegetables. This list is chock full of amazing combinations that include meat, beans, rice, gluten-free pasta, homemade sauces, and tons of bright delicious vegetables.
When stocking your pantry make sure to keep some quality gluten-free pasta, flour mixes, and rice on hand so casseroles are super easy to throw together! We always recommend having basic staples on hand like dry beans, rice, canned sauces, and your favorite gluten-free items to make your mealtimes easier to manage.
20 Gluten-Free Casserole Recipes
Use these gluten-free casserole ideas to create a menu plan or as inspiration for adjusting some of your old family favorite casseroles to make them work on your gluten-free diet.
Gluten-Free Chili Macaroni & Cheese Casserole from Premediated Leftovers
Gluten-Free Chicken Enchilada Casserole from Managing Your Blessings
Cabbage, Peppers & Kielbasa Casserole from My Life Cookbook
Asparagus & Ham Breakfast Casserole from Sassy Southern Yankee
Gluten-Free Oven Baked Chicken Parmesan from You Brew My Tea
Coconut Green Bean Casserole from A Life In Balance
Gluten-Free Savory Waffle Stuffing from Sassy Southern Yankee
Gluten-Free Cheesy BBQ Casserole Bites from Almost Supermom
Gluten-Free Vegetarian Spaghetti Casserole from Smile For No Reason
Broccoli, Cheese, n' Quinoa Casserole from Fit Foodie Finds
Moms Enchilada Casserole from I Love My Disorganized Life
Freeze Ahead Taco Casserole from Almost Supermom
Easy Shepherd's Pie Casserole from Flour On My Face
Cheesy Green Chile Chicken & Rice Casserole from Cookin' Mimi
Cheesy Tuna Noodle Casserole from Lazy Gluten Free
Loaded Chicken & Potato Casserole from Posed Perfection
Chicken Enchilada Casserole from Faith Filled Food For Moms
Spinach Artichoke Spaghetti Casserole from Gluten Free Mommy
John Wayne Mexican Casserole from Gluten Free Easily
Buffalo Ranch Chicken Casserole from Premeditated Leftovers
This list of delicious gluten-free casserole recipes is a great place to begin when meal planning. Use cooked chicken, beef, or pork to toss with these bases for amazing meals everyone loves. I love these casseroles for a great freezer meal option that is easy to thaw, heat, and serve on busier nights.
More Gluten-Free Dinner Recipes:
20 Gluten-Free Slow Cooker Recipes
Gluten-Free Recipes for Easter Dinner