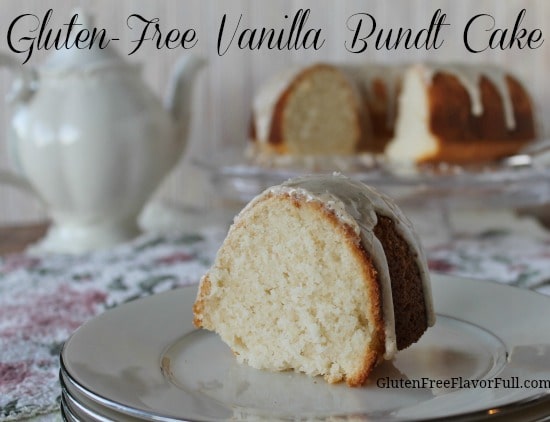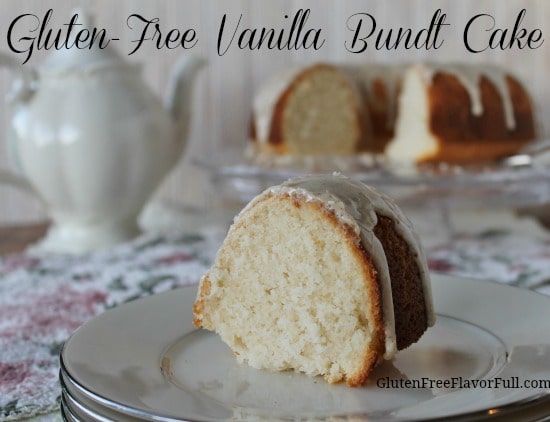 I am a fan of bundt cakes. They only require one pan. They are easy to transport since you don't have to worry about the layers slipping. You just drizzle glaze over the top without fear of ending up on Cake Wrecks. And since they are not coated in an inch of icing you can pretend it is a slightly healthier dessert.
This cake is dense with a moist crumb. It has a rich vanilla flavor and is topped with a vanilla bean glaze. If you don't have vanilla beans, then double the amount of vanilla in the glaze.
As in other recipes, I recommend using guar gum in cakes. You can substitute xanthan gum if you wish, but you get a "doughier" batter.

Gluten-Free Vanilla Bundt Cake
Ingredients
1½ cups white rice flour
1 cup tapioca flour
½ cup potato starch
2 teaspoons baking powder
1¼ teaspoon guar gum
2 cups sugar
1 cup oil (or melted butter)
1 cup milk (or dairy-free milk)
4 eggs
5 teaspoons gluten-free vanilla
Glaze Ingredients
1 cup powdered sugar
1 tablespoon + 1 teaspoon milk
1 teaspoon vanilla
1 vanilla bean
Directions
Preheat the oven to 350 degrees.
Grease and flour the cake pan.
In a large bowl, combine flour, sugar, and baking powder.
Add oil, milk, eggs and vanilla and stir to combine with flour mixture.
Use a blender to beat the cake mix on high for 1 -2 minutes.
Pour cake mix into bundt pan. Bake at 350 degrees for 50 - 60 minutes.
When an inserted toothpick comes out clean, remove the cake from the oven and allow it to cool in the pan. Once cool, invert and top with glaze
Glaze Directions:
Add sugar, milk, vanilla to a small bowl. Mix well to ensure sugar is completely dissolved.
Cut open the vanilla bean and scrape the inside into the glaze. Mix well.
Spoon glaze over cake.
You can also top this cake with this Berry Glaze recipe.
More Gluten-Free Cake Recipes: