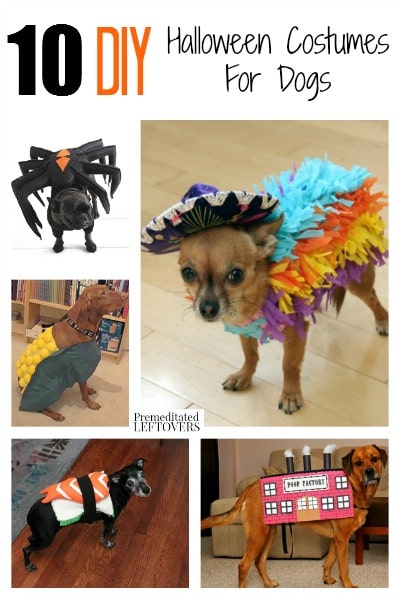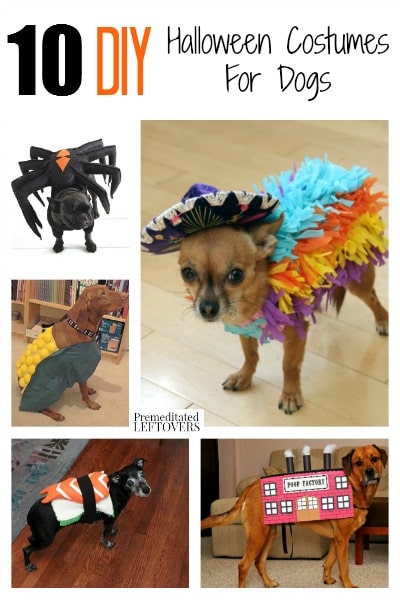 Dressing yourself and your kiddos up for Halloween is tons of fun, but what about your dog? Who doesn't love a dog in a costume? This is the perfect way to show off your pup while you walk the neighborhood Trick-Or-Treating with your kids. Here are 10 awesome and hilarious DIY Halloween Costumes for Dogs.
10 DIY Halloween Costumes for Dogs
If you love punny costumes as much as I do, this "Corn Dog" costume is just a riot! It's easy to do with this tutorial by Doggie Stylish on Instructables.
Who doesn't love those sweet Hostess Cupcakes with the white swirl on top? Make your doggy into this sweet treat with this free pattern from Sew Doggy Style.
Martha Stewart has an awesome Spider-Dog Costume on her site. I just love the pug used in this photo!
Inhabitat has a very cute and easy costume idea of making your dog a Chia Pet. You don't need very many materials for this one and it looks like it could be thrown together pretty quickly!
Humor is a wonderful thing, isn't it? I absolutely giggled out loud when I saw this Poop Factory costume from Turtles and Tails. All you need is a box to get started with this funny costume!
Arrrr! If sewing isn't your thing, but you still want to make a costume for your dog, this No-Sew Pirate Costume from Luigi & Me is perfect.
For something super simple that will be comfortable for your dig all night, make this cute Sushi Roll Costume from Tabbiekittie on Instructables.
Go for a classic costume with this easy to sew Pumpkin Costume from Mimi & Tara.
If you happen to have a chihuahua, this awesome and absolutely adorable Pinata Costume from Studio DIY is as simple as gluing crepe paper to a doggie sweater!
Maybe instead of a sushi roll, you prefer another kind of sushi. This DIY Sushi Costume for dogs from Eat.Sleep.MAKE is so cute and looks like it is very easy to do as well.
What kind of dog do you have and what are you dressing them up as this year for Halloween?
More DIY Halloween Costume Ideas
Frugal Halloween Costume Ideas
10 Free Halloween Costume Patterns for Boys
10 Free Halloween Costume Patterns for Girls
10 DIY Halloween Costume for Women