If you love to sew almost as much as you love to spoil your pets, these are 10 free sewing patterns for pets will be right up your alley.
As pet owners, we often treat them like our children. Why shouldn't we? They are loyal, loving in ways that humans often aren't, and they are super entertaining and a joy to have around. If you have some "fur babies" that you would like to spoil, here are 10 free sewing patterns for pet owners to help you do just that.
10 Free Sewing Patterns for Pets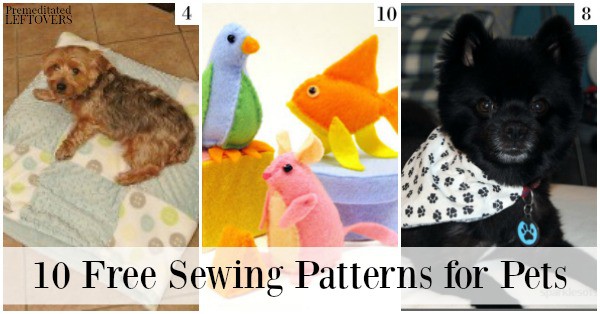 1. Tired of cleaning up after Fido's every meal? Make it easy with this Pet Food Mat from Sweet Verbena. It looks like a very quick project!
2. If you like to give treats to your dog while you are out walking them or you are in the throws of training, this Dog Treat Bag Tutorial from Bits and Pieces will come in handy.
3. I love using up scrap fabric and repurposing things, and this Denim Lined Dog Coat from Getthechad vis Instructables is a great way to repurpose an old pair of jeans.
4. Dogs and cats love to snuggle under covers and in anything soft, so this DIY Snuggle Sack from Kirby the Dorkie is perfect. It doesn't even require any advanced sewing skills.
5. Who doesn't love a dog in PJs? This easy to follow pattern and tutorial for Dog Pajamas from Mimi & Tara is great!
6. From Free Patterns, here is an easy to make Dog Coat that is sized for different breeds.
7. Canadian Living has a great easy to sew Cat Tunnel. Wouldn't your kitty just love this? You could even make it in a pattern and color that matches your room!
8. If you'd like to make a stylish bandana for your pup, Sparkles of Sunshine has a great tutorial for a reversible bandana that will fit your dog correctly.
9. For walking out in style, check out this easy to make Kimono Dog Harness from Sew Mama Sew.
10. These felt Cat Toy Critters from Fantastic Toys can be made in a flash and you could even fill them with some catnip for extra fun.
Are you going to make these? Who knew you could make your own collars and harnesses?
More Frugal Tips for Pet Owners:
10 Free Knit Patterns for Pets
How to Save Money on Your Pets