Do you have a stack of paper grocery bags building up at home? Put them to use or at least find others who can with these 7 Creative Uses for Brown Paper Bags.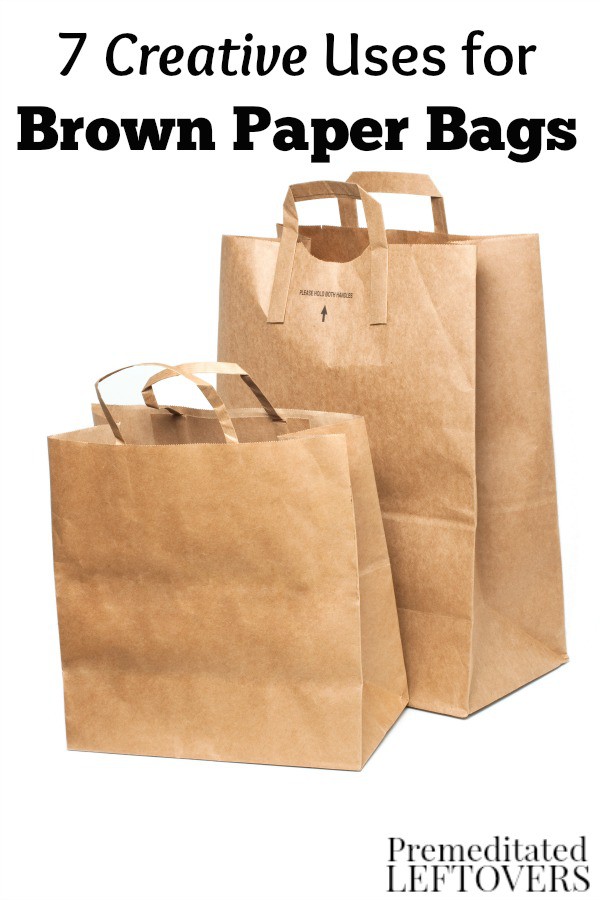 You may have dozens of brown paper bags on hand from all of your grocery shopping excursions. While they are great for carrying groceries home, you may not know what to do with them after that. The great news is, brown paper bags have so many other uses. Take a look below at 7 Creative Uses for Brown Paper Bags, so you can put those bags to use long after the groceries are gone.
7 Creative Uses for Brown Paper Bags
1. Add them to your compost. Shred the bags into strips and add them to your compost. They can be great for creating a nutrient rich garden. You can even wet strips of brown paper bags and place them around plants as temporary weed blocks as they will act very much like mulch. So easy!
2. Take them on your next camp out. There are so many ways to use brown bags when you camp. You can layer the ground with them (under your sleeping surface) to help create some insulation, use them as trash bags, or even use them along with your kindling to achieve a roaring fire.
3. Use them to protect breakables. Wrapping breakables in brown paper bags can help them stay a little safer. Use brown paper bags as wrapping material when shipping an item or storing breakables in the attic or basement. They can help offer a layer of protection that your breakables need.
4. Offer them to thrift stores. Thrift stores and second hand stores will be thrilled to get your old brown bags! Since they often run on budgets and can't buy these types of bags, they are sure to appreciate the donation. Just gather your bags, fold them up, and drop them off. It will make their day and they are sure to put them to good use.
5. Donate them to pet shelters. Pet shelters love using shredded brown bags as cage and pen liners. Since they often work on a limited budget, they will appreciate you dropping your brown bags off. If you are an animal lover and want to help animals in need, donating your brown bags will help.
6. Let kids get creative. You will be amazed at what kids can do with a brown bag! Give them scissors and markers and let them create their own costume or other work of art. Brown bags make fun vests and other works of art. Kids can even stuff them with paper to make a punching bag or cut them into a kite.
7. Make rustic décor. Cut brown paper bags into strips and make a rustic chain banner. Use the brown paper as backing in framed prints, or cut the paper into placemats. The brown paper complements rustic décor well so find creative ways to use it in your own home décor and displays.
See how valuable those brown paper bags can be? Give these 7 creative uses for brown paper bags a try and see which one works for you.
More Uses for Common Household Items:
7 Creative Uses for 2 Liter Bottles
7 Frugal Uses for Empty Shoe Boxes
10 Alternative Uses for Dryer Sheets
7 Ways to Reuse Toilet Paper Rolls