There are a lot of ways to decorate a holiday tree without expensive ornaments and decorations. Learn how with these 8 Simple Ways to Decorate Your Christmas Tree for Less.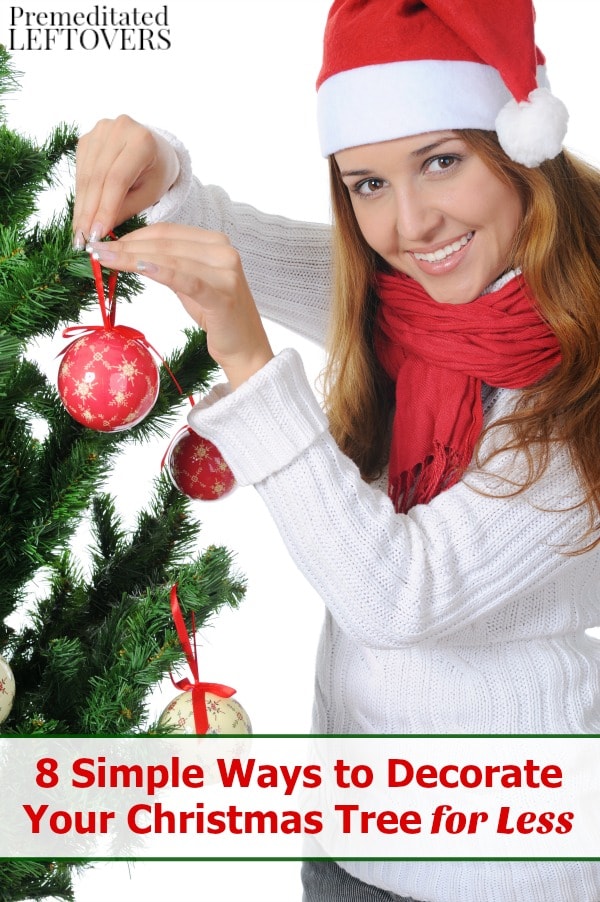 It is time to trim the tree and get it looking festive! But what if your holiday budget isn't looking so bright? No worries, because there are plenty of ways to get your holiday tree looking gorgeous for less. You can do it without a ton of cash or even effort. Take a look below at 8 Simple Ways to Decorate Your Christmas Tree for Less, so you can make it shiny and bright while still keeping some cash on hand.
8 Simple Ways to Decorate Your Christmas Tree for Less
1. Head to your dollar store. This is a great way to find tree trimmings for just a buck. You will find ornaments, bows, garland, and so much more. Grab a basket and fill it up with dollar finds, so you can get your tree looking great for less.
2. Check out thrift stores. Thrift stores are fantastic for finding gently used garlands, lights, stars, ornaments, even artificial trees. If you are on the hunt for these items, hit up the local thrift store. Go on a discount day and save even more on your purchase.
3. Make your own ornaments. Make homemade salt dough ornaments or paper snowflake ornaments to adorn your tree with. This is such a fun and family friendly way to get the tree looking lovely. You won't feel like you are skimping and can even make some memories in the process.
Homemade Christmas Ornaments:
15 Homemade Christmas Ornaments
15 Free Christmas Ornament Crochet Patterns
10 Free Christmas Ornament Sewing Patterns
4. Decorate with children's artwork. Kids bring home so many holiday crafts during the Christmas season. Get some clothespins and clip these works of art to your tree. This is a fun and free way to add color and charm to your tree, plus kids will get a kick out of it too.
5. Cover it with tinsel. You can find a box of tinsel at most dollar stores and use it to create an icy effect on your tree. Just a box or two will cover the tree nicely, and the glow of the lights will add the perfect touch. Try tinsel for a quick fix that is also budget friendly.
6. Enjoy a natural tree. Add white lights to your tree and use natural elements such as pine cones to decorate with. You can find pinecones outside and glitter them up for some sparkle. Or, you can even glitter twigs and tuck them in for a beautiful look.
7. Find those freebies. So many companies offer free ornaments with purchase during the holiday season. Look for snip and hang ornaments on the back of cereal and food boxes, or snag those free gift with purchase offers. You might even see forms in your Sunday coupon section to snip out and send in for a free ornament with proof of purchase.
8. Use hand me downs. Ask family and friends about ornaments they no longer use or display. See if you can help yourself to them. Many times people have these items in storage, so if you just ask you can get your hands on some décor for cheap.
Give these 8 tips for decorating your Christmas tree on a budget a try! They are all easy and excellent ways to create a tree you can be proud of.
More Ways to Save Money This Christmas:
Ways to Save Money on a Christmas Tree
How to Save Money on Christmas Cards
7 Ways to Save on Shipping Christmas Gifts
Frugal Christmas Decorating Ideas