Can you believe how fast this year has gone by? It is almost mid October and before you know it, we will be celebrating Thanksgiving. Turkey and dressing, all of the delicious side dishes, and the decadent desserts! It's one day of the year that I let myself eat until I just can't eat anymore. But there is one more thing that you must have for your Thanksgiving dinner. A beautiful Thanksgiving tablescape.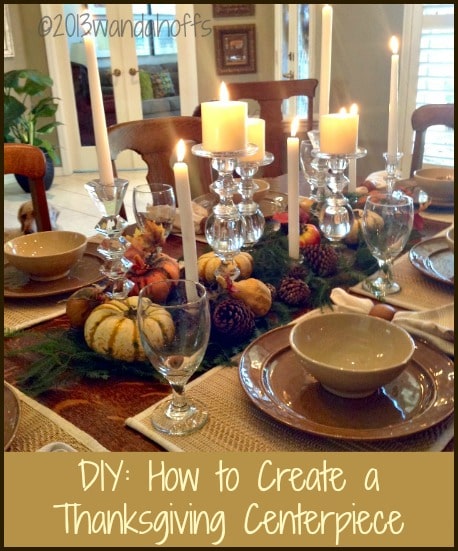 Today I am going to share simple ways to impress your guest this Thanksgiving with setting a beautiful, elegant table. Rustic seems to be the big trend this Thanksgiving and I am going to share how to mix a little bit of rustic with a lot of elegance.
Creating an elegant tablescape is not hard at all, and there really is no right or wrong way to achieve the look you want. However, there are items that you must have to pull off the perfect classic look.
How to Create an Elegant Thanksgiving Centerpiece
Must have items:
candlesticks – glass, silver, brass
vases
goblets or mason jars
candles
fresh flowers, greenery, berries
china
table linens
small pumpkins and pine cones
placemats
Frugal Tip: shop your thrift stores! Thrift stores have an abundance of candlesticks, vases, dishes, etc. Sometimes you can even find your nicer brands like Lennox.
Fresh flowers and pine cones can come from your backyard. If you have a tree with berries, use them too. They are a great way to add a pop of color and texture.
Your arrangements do not have to be over the top.
Start with your arrangement.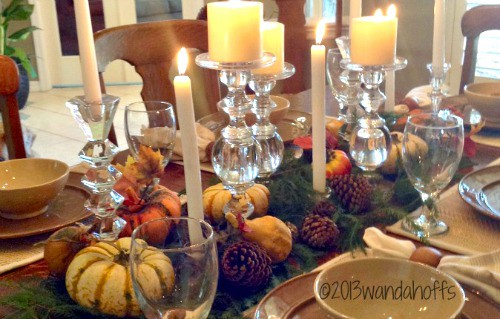 add fresh greenery, berries, pumpkins, and pinecones down the center of the table.
Add your candlesticks
The trick to candlesticks is layering. Mix tall and short, brass, gold, and glass candlesticks together. Create visual interest with the different heights, sizes.
*tip~Use white or cream candles to maintain an elegant look
Add placemats or chargers for each guest.
this is where you will want to use texture and materials like wicker, bamboo, etc. to add more rustic elements.
Add fabric napkins
If you want to add more pops of color, use a colored napkin.
Add your china
Add your glass goblets
If you want to add more rustic elements, add mason jars instead of goblets.
By following these simple steps, you can have a beautifully elegant and rustic Thanksgiving tablescape for entertaining your guest in style.
More Fall Decorating Ideas: