Do you have anything in your closet that has gone unworn for months or even years on end? Maybe something you picked up from a thrift store with high hopes of a cute update? Don't unload them just yet! There are so many fun ways to breathe new life into old or outdated clothes. Shoes are no exception. Canvas flats are one of those trends that make their way back time and time again. They're classic, and just don't seem to ever go out of style. That's fine with me, because not only are they cozy, but they're versatile and easy to revamp.
If you don't happen to have a pair lying around, white canvas shoes are easy to find in just about any store. Craft stores are even starting to carry them right along with their plain t-shirts and other fashion accessories for easy decorating. They're also really inexpensive and in many cases can be purchased for under $5. Find them on super clearance like I did, and you may just land a pair for under $3. Come on, who can pass that up?
With a packet of fabric dye and a little patience I'm going to show you how to transform a pair of plain white canvas shoes using a simple dipping technique. The end result is an ombre pair of kicks no one will believe you created yourself!
DIY Ombre Dyed Canvas Shoes
Materials needed:
1 packet of fabric dye, your choice of color (I used Tulip Permanent Fabric Dye in Teal)
1 large bucket, bin, or stainless steel sink
1 large measuring cup or other container suitable for measuring water
Rubber gloves
Plain white canvas shoes
Optional: Vaseline
Instructions:
1. Mix your entire packet of dye according to package instructions. Use gloves to prevent dyed fingers!
2. If you'd like to keep the rubber trim of your shoes bright white and free of dye, rub a thin layer of Vaseline around these areas. Be careful not to get any Vaseline on the fabric of your shoes. I didn't mind if mine absorbed a little of the color, so I took my chances and opted to proceed without covering the trim.
3. Starting at the heel, carefully dip your shoes about 1/4 of the way into the dye. Hold them there or carefully lean them along the side of our bucket for 10 minutes.
4. Lift the shoes while slowly pouring out any extra dye. Keep the toe of the shoes upward. Set them aside.
5. Add 2 quarts of hot water to your bucket of dye and mix well.
6. Starting again with the heal, dip your shoes an additional 1/4 of the way into the dye. Hold for another 10 minutes.
7. Remove the shoes from the dye, and set aside. At this point, you should start to see the beginning of your ombre technique.
8. Drain ½ of your dye, and add another 2 qts. of hot water. Mix well.
9. Dip your shoes another ¼ of the way into the dye. Hold for 10 minutes.
10. Remove the shoes from the dye, and set aside.
11. One last time, drain about ½ of your dye and add 2 qts of hot water. Mix well.
12. Dip your entire shoe into the dye, and let sit for 10 minutes.
13. Remove your shoes and let the dye saturate the canvas overnight.
14. Give your shoes a cold rinse and let them air dry before wearing.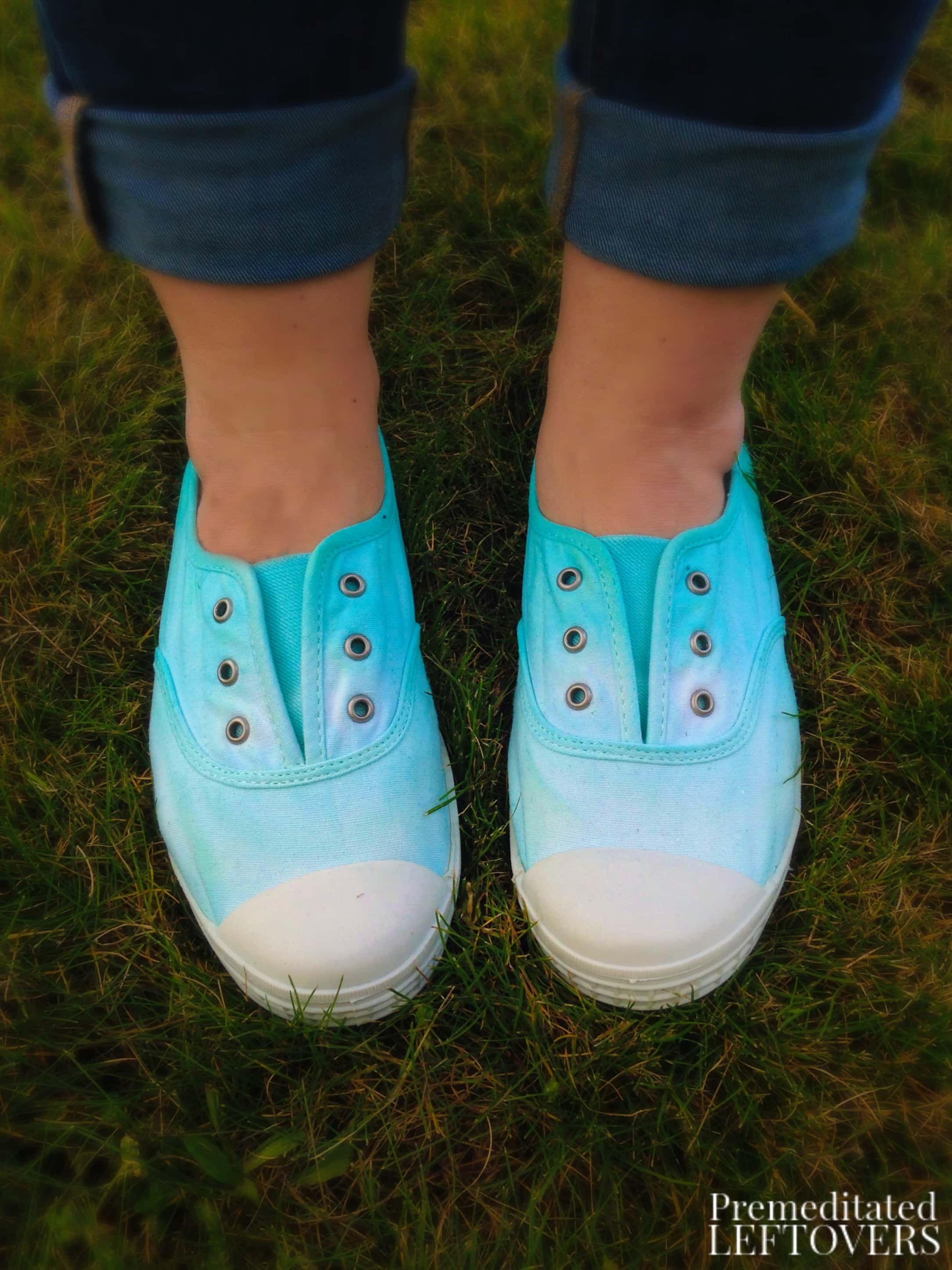 How about a little sparkle?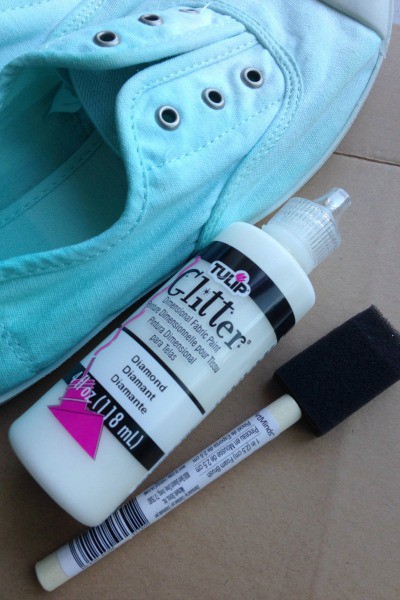 It's really easy to add a subtle touch of sparkle to these shoes. Just grab a bottle of glitter fabric paint and a small brush. Add a few vertical lines of paint at the heal of each shoe. Use your brush to spread the paint from the heal to the toe in a long front to back motion. By spreading the paint from the heal to the toe, the sparkles on your shoes will appear to decrease at the same rate of the color.
These shoes are perfect for little ones as well. After my daughter set her eyes on these she insisted on having her own pair too. Hmm, what color next?
More DIY Projects
10 Awesome Ways to Deconstruct a T-Shirt