DIY peppermint hot chocolate lip balm is perfect for soothing chapped lips in the winter.

There are many scents and flavors associated with the holiday season. The invigorating scents of our favorite treats being baked and the scents of the cool, crisp air come to mind for many. When I was growing up, peppermint hot chocolate was always a favorite treat during the Christmas season. We had a natural skating rink outdoors just a couple blocks from my home and I remember going there many times with my older brother. We would spend the day skating and playing in the snow and when evening would come, we would always get to have some hot chocolate with a peppermint stick in it. The scent of that warm drink always reminds me of this time of year.
Since chapped lips are also a part of this season, I came up with this super easy recipe to bring back the scents I remember in my recipe for DIY Peppermint Hot Chocolate Lip Balm. I hope you enjoy making this and make sure to make a few extra so you can stick some in stockings too.
DIY Peppermint Hot Chocolate Lip Balm
Ingredients:
Supplies:
Directions:
Start by creating a double boiler. I use an old mason jar placed in a small pot on my stove. I add water to the pot that goes up about 2-3 inches along the side of the mason jar. Bring to a simmer.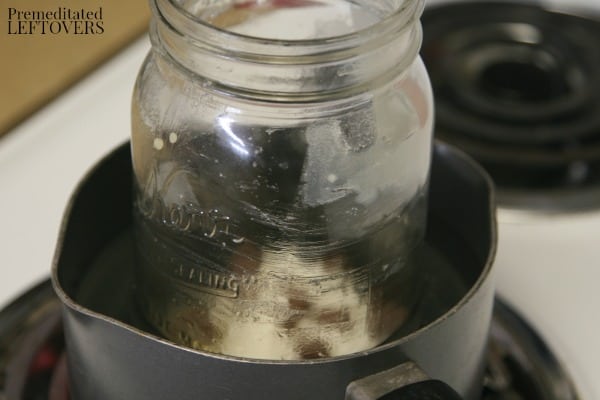 Using a hot pad, grab the mason jar and add the coconut oil, cocoa butter, and beeswax. Carefully place it back into the simmering water. Leave the jar in the pot until all of the ingredients are melted, stirring gently, to help in the process. The ingredients will melt at different rates because they have different melting points, with coconut oil melting almost right away.
When the rest of the ingredients have melted, add your chocolate chips and stir again. Once the chips are fully melted, remove from heat and turn the burner off. Place the mason jar on a hot pad.

Carefully add 15 drops of peppermint essential oil to the jar and give it a light whirl.

Using a hot pad, grasp the jar and carefully pour it into the containers you have set aside for each balm. Leave the lids off so the lip balm will cool quicker. They should be initially set and cooled so they can be moved within an hour and fully cooled in 12 hours. You can place the lids on them at that point and package them any way you like. I added a bit of baker's twine to mine.

More DIY Beauty Products:
Homemade Citrus And Herb Sugar Scrub Bars
Oatmeal & Honey Moisturizing Bars
Homemade Peppermint Bath Bombs
Homemade Rosemary & Lavender Hand Soap