If you love to create your own homemade bath and beauty products using simple and natural ingredients instead of those filled with chemicals, additives, artificial dyes, and scents, then you are going to love this rich, moisturizing soap. With the ability to exfoliate, moisturize, and cleanse your skin, this Oatmeal and Honey Moisturizing Bar Soap is not only pretty, it does everything you need it to do in the shower or bath. It is long lasting (when kept out of direct water spray in shower) and makes a beautiful gift wrapped in paper and twine with a pretty tag attached or on display in your own bathroom. The scent is light, natural, and clean. These bar soaps are perfect for kids and adults, and are especially helpful for extra dry skin and eczema.
Oatmeal and Honey Moisturizing Bar Soap
Supplies:
1/2 lb. melt and pour glycerin soap base
1 T. shea butter
2 T. honey
1 tsp. coconut oil
1/4 cup oatmeal
1 tsp. cinnamon
mold
saucepan
wooden spoon
food processor, blender, or coffee grinder
Directions:
1. Rough chop oatmeal in blender, food processor, or coffee grinder.
2. Cube glycerin soap base into 1″ pieces .
3. Place glycerin cubes, shea butter, and coconut oil in a saucepan over medium heat.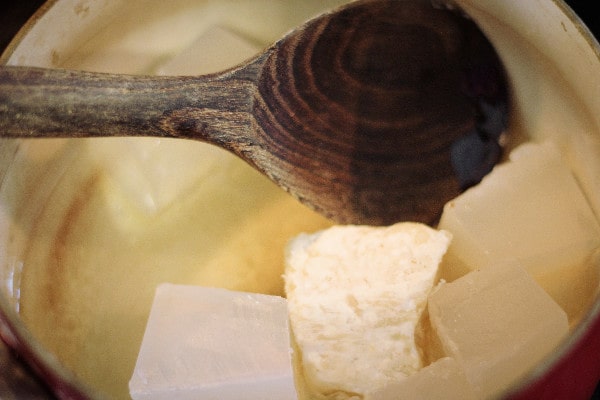 4. Stir frequently with a wooden spoon until completely melted.
5. Remove mixture from heat and stir in oatmeal, cinnamon, and honey to combine well.
6. Pour into your mold and sprinkle with a bit more cinnamon and oatmeal. Using a silicone soap mold makes it very easy to remove your hardened soap and helps cut down on clean up time as well. This time I used a disposable aluminium mini loaf pan.
7. Allow your soap to sit several hours (overnight if you can) so that it can set completely throughout.
8. Slice into smaller bars, whatever size you prefer.
9. Store in a cool, dry location.
More Homemade Bath Products:
Homemade Citrus and Herb Sugar Scrub Bar
DIY Peppermint Lavender Bath Soak
Harvest Spice Latte Sugar Scrub