This DIY Reusable Sandwich Bag makes it easy to be green, not to mention it makes you the cool mom when you make it in your child's favorite colors, character, or sports team fabric. Grab your favorite fabric pattern; cotton, flannel, duck cloth and one of the coolest inventions ever: iron-on vinyl. You can have several sandwich bags whipped up in less than 30 minutes. The vinyl seems a bit expensive at $9.99 a pack (Hobby Lobby), but I used a 40% off coupon to bring it down to $5.99 and after making 2 sandwich bags, and 2 snack-sized bags I still had half of the package left- so it really is very affordable, especially if you are making multiple bags.
I would suggest having at least 2 sandwich bags on hand per child. Think of the all the money you will save not buying plastic disposable sandwich bags each week, and all the plastic you will be keeping out of the landfills.
DIY Reusable Sandwich Bag
Supplies:
Fabric of choice
1 " wide low pile velcro tape
iron on vinyl
sewing machine
iron
Directions:
Cut fabric to 18 1/2 " by 7 "
Cut iron on vinyl to 18 1/4″ x 6 3/4 ".
Iron vinyl onto "wrong" side of fabric, following package directions- For mine i peeled off the backing, pressed the sticky side onto fabric-centered. Covered vinyl in backing and pressed all over for about 5 seconds with hot iron, remove backing, flip, and press quickly on right side of fabric.
Fold fabric in 1/4″ to 1/2 " and sew down each side.
Cut velcro pieces to 5″ long and sew one side on the short length of fabric 1/4 " from the top, on the opposite end sew the other piece on the opposite side also 1/4 " from the top of hem.
Fold the right side (printed side of fabric) together so that one end is 2″ longer than the other, and sew up the side.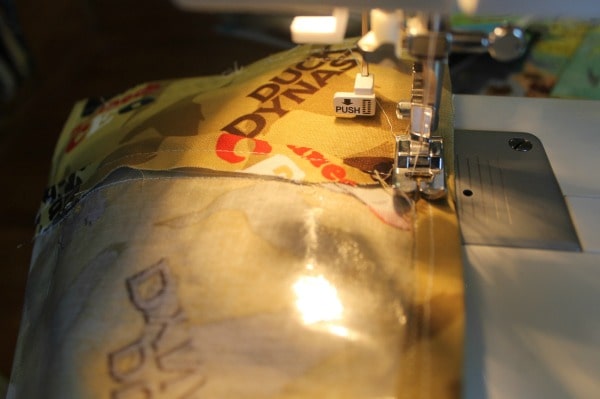 Turn bag out and it's ready for use!
More DIY School Supplies
How to Make a Monogrammed Backpack
Frugal Back To School Tips
How to Save Money on School Supplies
9 Ways to Save on Back to School Supplies
9 Ways to Save on Back to School Clothing